Afnan Arabian Gems Blue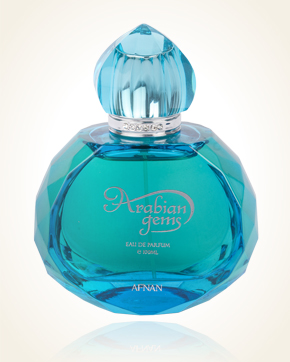 Afnan Arabian Gems Blue
Eau de Parfum 100 ml
Out Of Stock
Eau de Parfum Sample 1 ml
Out Of Stock
Notify me when available?
Description
The temptation of water tones will be interconnected in the initial echoes with oriental spice headed by tones of pepper and an elegant rich orange african. A slightly warm and creamy vanilla is added to create a charming connection with rare woods and a tenderly sensual echo of musk.
A wave of herbal delicacy comes to us with green violet leaves. Guajac wood with its sweet footprint combines with tonka and warms the whole fragrant composition. In the end, the seduction of the irresistible playfulness of musk is fully developed.

Customer Reviews (4)
I have already ordered Arabiam Gems Blue from you once and have been so impressed that I have to do it again. I haven't seen perfume that I love more. So I have to try his Red version :-) Thank you so much (21.7.2017 - Hana H.)

Hello, thank you for welcoming to your world of smell and I'm glad to hear from you. All patterns are beautiful, gradually know - what I will order :-). Vuni Arabian Gems Blue I felt in the gym, I did not know that something so beautiful exists. Beyond and around, just where everybody was moving, this mecca was like a scented nebula ... I don't know how to write it, a very nice smell that appealed to me a lot ... so I asked because it made me crazy. .. the smell :-) It is so clean, refrigerant, but there is something of wood, I am very satisfied ... beautiful smells and long smells. Thank you (24.2.2017 - Martina M.)

ARABIAN GEMS BLUE - a beautiful fragrance that can create a magical atmosphere every day (16.2.2015 - Jaroslav B.)

Arabian Gems Blue edp led me into the imaginary world of the night forest on hot nights. At first a dry forest full of echoes from a hot day blazing from dirt roads, trees, and withered grasses would be a heavy thunderstorm. From the nearby lake the wind carries the scent of water, germ and ferns. Sweetly scented ripening forest fruits, fallen needles are added with its dry bitterness. Creamy vanilla smells moderate musk. The aroma is light, refreshing, yet clearly oriental. (03/07/2014 - Simona J.)

Have you tried one of our perfumes?
Let us know
how you like it!
Notify me when available?
You might also like