Al Rehab Balkis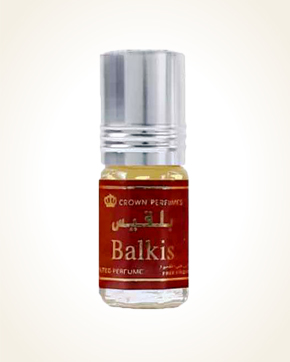 Al Rehab Balkis
Concentrated Perfume Oil 3 ml
Out Of Stock
Concentrated Perfume Oil Sample 0.5 ml
In Stock
Description
Delicately unfolding the graceful aroma of musk and floral tones, followed by delightfully thick honey with gourmet whipped vanilla. After the perfume has been developed, there is a slight whiff of delicate flowering lotus flower, nostalgia of carnation and velvet-saturated roses.
Oriental touches are noticeable with the magical caress of oud oil, which only glimpses and lifts the composition. A small scented treasure shows tenderness, a velvety line along with powdered chords.
A pocket pack of oriental perfume, the big advantage of which is the small size (3 ml of perfume) so that it fits even the smallest handbag or pocket. In addition, perfume is very easy to apply using a ball in the bottle cap. So you can always have your favorite fragrance with you.

Customer Reviews (3)
Balkis - very interesting scent, changing its intensity and character during the day. Flowers are very strong on my skin after application. After a few tens of minutes, the scent softens, vanilla, honey and musk drift to the surface, and after a few hours the petals completely melt in the vanilla honey bath. In this position, the scent completely absorbs me. Something reminds me of muggle Angela in fleeting tremors. Beauty!!! (10/01/2016 - Lenka S.)

Balkis - this is the queen of flowers with vanilla, honey and musk, which develops during the day for a wonderful, distinctive fragrance. Thank you for the gift (5.1.2016 - Milena P.)

Balkis - you may have noticed that I ordered it last time and now reorder two more packages. This type of fragrances I love to wear, is distinctive, yet blends in with the skin, holding all day. Delicate flowers wrapped in a bitter sweet cloud. Beautiful and in addition with a very interesting development during the day. (5/15/2013 - Simona J.)

Have you tried one of our perfumes?
Let us know
how you like it!