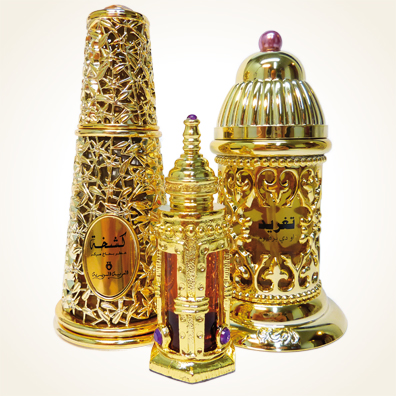 Do you like fragrances?
Try oriental perfumes.
Why? Because they are:
Just a few drops will change your perception.
Guaranteed.
Latest Customer Reviews
Surrati Al Ward Al Taifi
Hello I ordered an eau de cologne of SURRATI AL WARD AL TAIFI a few weeks ago. I love it so much. Thanks so much (30.5.2019 - Julie, Switzerland)
Abdul Samad Al Qurashi The Legend Gold
Just wanted to share my experience with Legend Gold from ASQ. From many Arabian perfumes I tried this one is really something I like. Still have a sample after one year and play with it. Very feminine, very uplifting, and chic. It reminds me some expensive western perfumes with an Oriental touch of fragrance natural authenticity. And today it really surprised me. Though Narcissus is given in the pyramid I always felt it quite subtle, not really coming out. But today in the afternoon, after appyling the perfume last evening around 7 pm, what means about 18-20 hours after, I started to notice that there is a fresh narcissus smell wherever I go. I didn't even realize in the beginning it's from me. It wasn't overpowering, no, it was as little breese bringing this aroma from a flowerbed. I felt it for a couple of hours and then stopped noticing it. Probably got used to it:-) So congratulations, ASQ, you perfume doesn't stop to please me:-) And a special thank you goes to Anabis.com Team who do their job professionaly and ship so speedily. With best wishes to all, (15.2.2019 - Lana, Netherlands)
Surrati Anmar
Anmar is a perfume I feel almost majestic wearing it. It has a scent which greatly pleases and linger on for a long time. It is a very distinct and unique scent which makes me stand out in the whift of other scents. It is not in the least confrontational but rather a pleasant companion which is omnipresent but not intrusively so. Anybody looking to buy the Anmar should do so without hesitation. It will embrace you. (19.10.2017 - M Rashid - Brisbane, Australia)
Al Rehab Choco Musk
Choco Musk - I was looking forward to the trdelniky and I felt the milk chocolate instead :-) But still it is a beautiful, delicate, sweet smell. No how our chocolate smell ... you can not even feel from afar! : -) (5.10.2017 - Žaneta B.)
Afnan Arabian Gems Blue
I already ordered Arabiam Gems Blue from you once and I am so pleased that I must again. I did not have a perfume I would love more. So I have to try his Red version too :-) Thank you very much (21.7.2017 - Hana H.)
Estevia Parfum Her Excellency
I greet you, Mrs. Lenko, and your whole fragrant Anabis: -) ... I am still your loyal customer :-) Her Excellency - so it is also a blast of tenderly clean purity ... the beauty of seducing still smelling ... so you give me ... I really would not be able to do anything all day, and just by gentle songs, take in the splendor of your captivating and very addictive fragrant drugs .... oh yeah ... time please stop for a while .... .... maybe After an hour of application, I have to add that it is really a very magical changing smell ... I feel there still a raspberry vitacit slightly irritated ....
General Reviews
Many thanks for my previous fast delivered order, your kind hand written note on the Order Summary and lovely gifts. Wih warmest regards, (25.6.2019 - Al, UK)
Hallo. Habe gerade meine Bestellung gemacht. Danke für alles und das wird nicht meine letzte gewesen sein. Habe Sie schon mehrfach weiter empfohlen. Grüße (29.4.2019 - Carsten, Germany)
Hi Anabis, I have just received my parcel on 1/3/19. Got everything as ordered. Thank you for the free gifts, especially the Ard Al Zafaran Hareem Al Sultan perfume. I would definitely recommend anabis.com to my friends in Singapore. Yours sincerely, (2.3.2019 - Rafiean, Singapore)
Dear Jan and Lenka, thank you for providing quite a big range of samples of the Arabian perfumes. It's not that easy to find them in Europe. And with Arabian perfumes it is always god to try first:-) So I'm still in the process of testing different ones. Some I like, some not. But I really appreciate that you give this possibility for those who want to get a taste of Arabian world's perfumery. Wishing you all the best (19.2.2019 - Lana, Netherlands)
Hi Jan, The shipment arrived today. Great fragrances. Thanks for shipping so promptly. Merry Christmas (21.12.2018 - Todd, Texas USA)
I just picked up my order. I love the free gifts more than the ones I paid for. Thank you very much. (31.8.2018 - Utibe, Calabar, Nigeria)