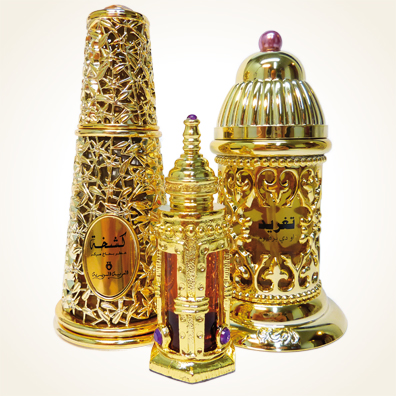 Do you like fragrances?
Try oriental perfumes.
Why? Because they are:
Just a few drops will change your perception.
Guaranteed.
General Reviews
Hello, thank you very much for the samples and for the extra gift ... Thank you also for the advice when choosing perfumes. So far, I'm at the beginning of testing .. Afnan Musk Abiyad is more sweeter on my skin than I would like ... I really like Lafata Pure Musk .... Anyway, I'll continue testing and then I'll decide ... Thank you for your helpfulness and advice. Beautiful fragrant days, (21.9.2021 - Kačka L.)

Hello, very nice ladies of Anabis. Thank you very much for sending a package with beautiful and fragrant oils. Many thanks also for the gift and the handwritten letter. Perfumed oils are amazing. It's all up to me, only Ajmal Aurum oil just doesn't want to be with me. I do not get it. While others write what a holder it is. I'm so sorry, I should have waited for Khadlaj Safari to be in stock. Or choose Khadlaj Hareem Al Sultan Gold. There is nothing that can be done, .. Anyway, thank you very much from the bottom of my heart and I will wait until Khadlaj Safari oil. Then I will order from you.

Hello, Thank you for the nice message! Honestly, it's a scent for my colleague. I already have it :) Together we took time to sniff about the service when I received samples from you. I rediscovered it (I had it a few years ago and I completely forgot how amazing it is during that time) Al Rehab Silver and completely new Saat Safa. Together with Remember me, it is my proven trio so far. Thanks to you, I discovered oud perfumes and I started to be interested in perfumery at least (at least from a distance) a little more. In ordinary perfumery, I would buy the perfume, perhaps only in the highest emergency. I don't want to be unnecessarily extravagant, but you can also find unusual and very interesting and wearable scents at a favorable price. I wish you much success in your work and personal life. (07/19/2021 - Monika P.)

Hello, thank you very much for the amazing perfume samples. I'm absolutely desperate. In good. :) I feel addicted. I have the urge to keep sniffing. So far, I've tried about 7 samples and I'm ecstatic. I have already ordered oil perfumes from another company once. It got it. But it can't be compared to you at all. This is simply a completely different league. After previous experience, I hesitated. I was convinced by the reviews. I already have a list of four scents that I really need. The husband has his list as well. Even Rafia silver perfume will probably be our common one. I didn't believe that perfume could be the same for men and women. But the experience with this scent is clear to us. Thank you for your work and for changing our view of the world of perfumes. We look forward to finishing your sample testing and ordering the entire package. A beautiful summer. (11/07/2021 - Veronika H.)

Hello, I have already shopped with you and I am very satisfied with your helpfulness and the offer of perfumes. Perfumes are amazing not only for women, but also for men and communication is excellent. I will definitely shop here regularly. In other offers, I did not find what I wanted, the amazing scent of perfumes, beautiful bottles, the helpfulness and kindness of the shop staff. Fast delivery of goods. I also like gifts in the form of samples and perfumes. I wish you many more successes and success in your work. (06/28/2021 - Jarmila P.)

Your scents are very addictive .... I'm really addicted ... and I wish you a nice Beautiful day, dear fragrant ladies (23.06.2021 - Alica Černá)