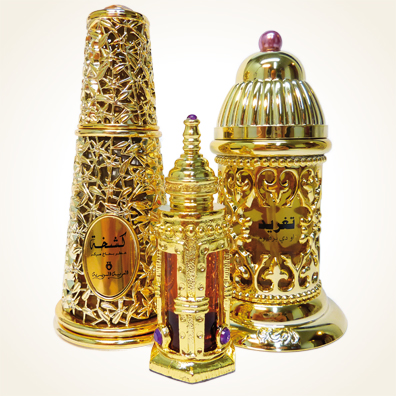 Do you like fragrances?
Try oriental perfumes.
Why? Because they are:
Just a few drops will change your perception.
Guaranteed.
Latest Customer Reviews
Surrati Anmar
Anmar is a perfume I feel almost majestic wearing it. It has a scent which greatly pleases and linger on for a long time. It is a very distinct and unique scent which makes me stand out in the whift of other scents. It is not in the least confrontational but rather a pleasant companion which is omnipresent but not intrusively so. Anybody looking to buy the Anmar should do so without hesitation. It will embrace you. (19.10.2017 - M Rashid - Brisbane, Australia)
Al Rehab Choco Musk
Choco Musk - I was looking forward to the trdelniky and I felt the milk chocolate instead :-) But still it is a beautiful, delicate, sweet smell. No how our chocolate smell ... you can not even feel from afar! : -) (5.10.2017 - Žaneta B.)
Estevia Parfum Her Excellency
I greet you, Mrs. Lenko, and your whole fragrant Anabis: -) ... I am still your loyal customer :-) Her Excellency - so it is also a blast of tenderly clean purity ... the beauty of seducing still smelling ... so you give me ... I really would not be able to do anything all day, and just by gentle songs, take in the splendor of your captivating and very addictive fragrant drugs .... oh yeah ... time please stop for a while .... .... maybe After an hour of application, I have to add that it is really a very magical changing smell ... I feel there still a raspberry vitacit slightly irritated ....
Al Rehab Soft
Soft Cpo - it is also my sweetheart ... maybe I did not write about it before, but it is a beautiful scent and so beautiful and sweet, but it does not bother with its incredible tirelessness ... it is just a magician, Which envelops you and literally swallows in your vanilla vanilla jacket with juicy citrus ... but you will never feel sorry ... and that's what her magic is all about ... still getting drunk ... but watch out - you'll never get me ... I will always taste you ... your mysterious sweetheart ... Thank you for being ... fairy-tale fragrant heaven ... health (12.7.2017 - Romana V.)
Anabis Elmas
Oh God, I'm in exile ... lost my fragrant love musk beauty moooc thank you Mr. Jano and Mr. Lenko :-) such a speed .. as always ... really moooc thank you ... Elmas is a wonderful wonderful purulent Soap-like smell ... just purity itself ... a bomb ... And it's made for both women and men ... It's such a pure soapy cloud that comes along with any scent ... (12.7.2017 - Romana IN.)
Khadlaj Tamayaz
Khadlaj Tamayaz: The Star Output of Chamomile. On hot days, you do not need much for luck, especially refreshment, a lot of refreshments. Arabic perfumes offer it in its comfortable and very specific style. But that's a surprise: Chamomile in the lead role. Healing gentle tea as a caress, as we have it in the consciousness associated with childhood stoning, he is in Tamyaz promoted to the flower. Which means that its aroma has got haut couture adjustments. It's not the same chamomile that makes them feel from a bag of dried flowers. Of course you can recognize him by his typical bitter bitter dryness in the air. But you can hesitate for a minute if it's him, because he got into an unusual company. And it fits very well, even it forms a characteristic outer shell of the scent. Below it is a very sophisticated structure, from which the components that naturally interconnect with chamomile and strengthen it are more pronounced. They are herbs, lavender and mint, softened by the wind mush, so that the scent remains chamomile soft and soft. Less distinct but sensationally beautifying are delicate and uncouth fruits and honey-lime blossom. The aroma is herbs scraping and musk soft, cool and dry. The feeling of cold comes mainly from mint and deepens up to the moss-earthy ground. Tamayaz is very complex and even maintains the aroma of its fullness, and further enhances the herbal character of the multi-layered smell of tobacco, wood and resins. (9.7.2017 - Dzona - Breakfast in perfumery)
General Reviews
Hi Jan, The shipment arrived today. Great fragrances. Thanks for shipping so promptly. Merry Christmas (21.12.2018 - Todd, Texas USA)
I just picked up my order. I love the free gifts more than the ones I paid for. Thank you very much. (31.8.2018 - Utibe, Calabar, Nigeria)
Dear Jan & Lenka, I just wanted to let you know my parcel arrived today! I am very relieved as I was getting a bit worried about it. The packaging is excellent & thank you for the extra samples - I haven't opened them yet but from the outside they smell amazing. Thank you very much & I hope you have a great week. Best Wishes, :) (25.6.2018 - Adelle, Clayfield, Australia)
Thank you so much. I love the fragrance samples. And will order more today. Warm regards, (23.6.2018 - Isaac, California USA)
Hello, I received my order today everything smells so good I love them all, and thank you for the free samples,I will definitely be ordering again (21.6.2018 - Angela Maryland USA)
I am writing to let you know that my order arrived and i am very pleased with your prompt service delivery. Thank you for the free samples, my wife loved the Afnan Ornament pour femme!! I will be ordering more in the nearest future. (21.3.2018 - Cassian - Ukraine)