Afnan Arabian Gems Blue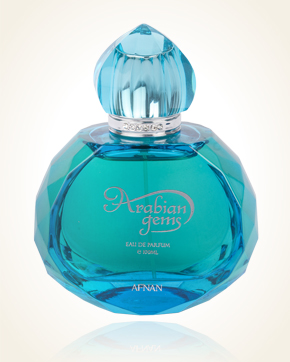 Afnan Arabian Gems Blue
Eau de Parfum 100 ml
Out Of Stock
Eau de Parfum Sample 1 ml
In Stock
Description
The lure of water tones in the opening echoes connect with oriental spices in the lead with hints of pepper and a stylish deep orange Afrikana. Adds slightly warm and creamy vanilla to create a charming combination with rare trees and tenderly sensual musk echoing softness.
Wave herbal subtlety comes to us with green violet leaves. Guaiac wood with his sweet track merges with tonka bean and warm up the whole fragrant composition. In the end, fully develop purity seduction irresistible playfulness musk.
Customer Reviews (4)
I already ordered Arabiam Gems Blue from you once and I am so pleased that I must again. I did not have a perfume I would love more. So I have to try his Red version too :-) Thank you very much (21.7.2017 - Hana H.)
Hello and thank you for your welcome into your world of fragrances and I am glad I found you. All formulas are beautiful, gradually I know - what I'm going to order :-). Vuni Arabian Gems Blue I've felt in the gym, I had no idea that something so beautiful there. For around and ask, wherever they moved this lady was as if a fragrant mist ... I do not know exactly how to write, very handsome scent that spoke to me a lot .... so I asked, because my whole infatuated. that smell .. :-) such a pure, refrigerant, but there is also something of wood, I am very satisfied ... smells a long time any of them. Thank (February 24, 2017 - Martina M.)
ARABIAN GEMS BLUE - beautiful fragrance that can evoke the magical atmosphere of the day. (Feb. 16, 2015 - Jaroslav B.)
Arabian Gems Blue edp led me into an imaginary world of nocturnal forest on hot nights. Initially dry forest full of echoes hot day radiating from dusty roads, trees and wilted grass will shower big storm. From the nearby lake breeze carries the scent of water, Calamus and ferns. Sweet smell ripening fruit forest, fallen pine needles add your dry bitterness. Smell creamy vanilla musk moderate distinct. The smell is is light, refreshing, yet distinctly oriental. (03/07/2014 - Simon J.)
Have you tried one of our perfumes?
Let us know
how you like it!
You might also like