Al Rehab Soft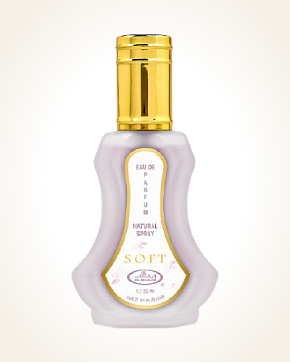 Al Rehab Soft
Eau de Parfum 35 ml
In Stock
Eau de Parfum Sample 1 ml
In Stock
Description
Vanilla and sandalwood charms along with a little citrus will open their arms at the beginning. The scent of orange blossoms together with chocolate full of bitter roasted almonds in this gently flowing perfume will bind you and, like a delicate cobweb, intertwine with a touch of lemon. He will take you into a perfume dream and will not let go.

Customer Reviews (2)
hello, I should write to you, as I am satisfied with the smells, so write, I do not know whether the writing here, perhaps yeah:) smell soft is spica, I am totally excited, great, fast and smelly shopping:) thank you, sure how buy again:) beautiful day (2.3.2016 - Eva K.)

If anyone was worried about whether Soft in the form of EdP is the same as Soft CPO, then it really is the same fragrance. Even after EdP has been sprayed, I feel that microscopic oil droplets are pouring out of the sprayer, giving the feeling of a thick smell. The oil on the skin works more than it settles, and EdP envelops me with a vivid, fluffy sinful veil spun from a pinch of lemon, a mountain of vanilla, and a huge tub of caramel with roasted almonds into an irresistible delicacy. The best combination is EdP for hair, neck, possibly clothing and CPO for pulse points on the body, which is then endless endurance. Soft is an incredible compliment catcher and I don't know anyone he wouldn't like. Just Soft is never enough (11.8.2014 - Andrea Ž.)

Have you tried one of our perfumes?
Let us know
how you like it!
You might also like