Al Rehab Soft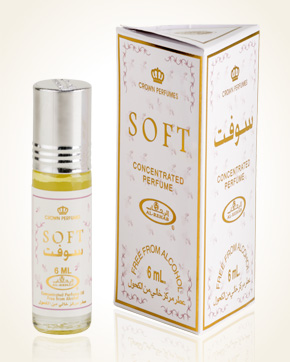 Al Rehab Soft
Concentrated Perfume Oil 6 ml
In Stock
Concentrated Perfume Oil Sample 0.5 ml
In Stock
Description
Pocket pack of oriental perfume, whose great advantage is small size (6 ml perfume) so it will fit even the smallest purse or pocket. Perfume is also very easy to apply using pellets in the bottle cap. Your favorite scent so you can always have with you.
Orange flowers along with bitter chocolate full of roasted almonds in this tenderly perfume you shackles and a fine web interweave with lemon twist. Take you with me to perfume dreaming and let go.
Customer Reviews (13)
Soft Cpo - it is also my sweetheart ... maybe I did not write about it before, but it is a beautiful scent and so beautiful and sweet, but it does not bother with its incredible tirelessness ... it is just a magician, Which envelops you and literally swallows in your vanilla vanilla jacket with juicy citrus ... but you will never feel sorry ... and that's what her magic is all about ... still getting drunk ... but watch out - you'll never get me ... I will always taste you ... your mysterious sweetheart ... Thank you for being ... fairy-tale fragrant heaven ... health (12.7.2017 - Romana V.)
Soft CPO is scented with lemons, oranges then suddenly I feel and it all blends nicely into my chocolate and vanilla smells and smells, it's a divine fragrance that is lehoulinká a breeze and sensual at the same time ... I feel for changing chocolates, yummy, it I can ... :-)) (March 22, 2017 - John C.)
Hello. Recently I bought from you pile roll-ons and slowly try. Yesterday I gave myself to smell Soft and started shopping. My first impression was citrus fragrance and I was not paying much attention. Until I first store was at the cashier lady saleswoman to me that there's something smells good, if I have some candy? Let me aback I say no, I'm just perfume, but it seems to me citrusový..paní said she is sweet as candy and smells and I apologize if I bothered by something ... so I answered no, I'm happy :-) at home, I then glanced at her composition because wearing it I felt much anymore, and it's really sweet, smell :-) I am dependent on those fragrances and I am always happy when someone praises me it: -) (11 December 2016 - Andrea Y.)
Hello, perfumes since you are the best (others already do not buy), and still somebody tells me how beautiful smell. My favorite Soft CPO and who are sometimes interesting reactions. :-) A lot of people do not even think that this beautifully sweet perfume can smell, so must the lady in the coupe loudly wondered what it smells like. The bus driver thought I'm taking candy. Tobacconist told me that would gnaw into me .... so thank you and I wish you many satisfied customers like me. (August 23, 2016 - H. Simon)
Hmmmmmm so SOFT me, then really got. I have already oils from you lot, but such strength and endurance, and above all the beauty I did not expect. Most are vůničky jemňoučké and sticks to the body, but soft is something. Holder all day, and the smell, I'd eat myself :-) I always say that I have nothing to find, but the opposite is true. Thank you !!! (July 31, 2016 - Lenka G.)
Al Rehab - Soft CPO 6 ml - initially stopped me and I must admit that even a little bit discouraged a good dose of citrus. Like a nose delve into the container with the juice of lemon pound ... After reading the reviews, I was expecting a soft, intoxicating scent. I overcame the initial urge to attack citrus scrub brush of skin Soft and gave a second chance .... paid off. I have to agree with others Soft is amazing! Hair and clothes to paint surfacer EDP, temples, neck, décolleté and wrist Apply CPO and then just let drift on almond, vanilla and chocolate puff. And the next morning when you wake up (after an evening shower !!!) my hair smells nice, not to mention the clothes smell a few days. Beauty! (January 26, 2016 - Lenka S.)
Thank you for the gift SOFT, it is the fragrance of God and you've made me very happy, because you have stopped offering PINKY PINKY, which was almost identical to her and I was quite dependent. I was saving the last bottles and now I've got a treasure from you that I succeeded him and therefore I order just five pieces, because PINKY PINKY alias SOFT is a fragrance that I always everywhere praised both men and women ... is inimitable, absolutely unique and incredible stamina. Thank you, (January 12, 2016 - Tatjana M.)
Soft CPO - absolutely divine smell, which is never enough, I ordered now 3pc, I wrote in the summer, what is the response of other people who have asked what I got for the breathtaking smell. Just a pity that he is not Amaal, it was my charming sweetheart, I'm after at least one spectacular flacon. These scents were similar. (January 5, 2016 - Milena P.)
Soft - sheer beauty, fragrance of white chocolate with orange and lemon little to energize the intensity. The whole is a gush of something totally fresh and intoxicating. Fragrance that will amaze and enchant everyone, whether he likes sweet or spicy. I really did not find a single exception, every power of smell and should never miss in stores. Great similarity with Amaal, so if I have another great perfume Amaal, catch up on it Softy :-). Amazing combination of Choco Musk and Golden Dust from Khalis - created a mix of chocolate, vanilla, mandliček, musk and wide with orange flavor and freshness of citrus - a dangerous combination :-). Along with other Pocket CPO Yaqootem best !!! (03.08.2015 - Iveta W.)
Soft CPO - absolutely delightful fragrance mandliček, chocolate and lemon that may be missing in my collection, along with Amaal, it's so wonderful aromas that when I was in the bank at the box office, and Mrs. cashier told me that for some time he wanted to ask what I consider a wonderful aroma that never felt anything like it. So your vůničky, nothing but chváááááááááála, let them give each other any perfume, they are blown away from the splendor. A sister-in from Poland, and the right to fall in love with your scent. A great compliment for your professional selection. Thanks (June 21, 2015 - Miloslav P.)
Soft scent evaluation, Al Rehab - to a detailed description of all possible aromas that are in smell Soft reflects'm missing words. However, the fragrance is a wonderful, sweet fruit and lasts a long, long time. With each movement, I feel the smell of it and I loved it! (February 11, 2015 - Holy R.)
Soft - although not prefer sweet scents, and I must say it is really soft booóžský. Baal I have boundless sweetness. But it's not just sugary soft. From the beginning, the sweetness subdued orange zest, then perform roasted almonds. To suppress sweetness contributes sandalwood. I can not help but soft in me evokes the smell of rum. If it had been soft in the solid, I would certainly dramatically and taste okousala. (Nov. 14, 2014 - Martina M.)
Hello, today I picked up at the post office perfume bottles. Everything went fine, package arrived. SOFT fragrance is absolutely perfect for me, I know her connections with oriental dance, which I attend, and for several years I use it even when I tried other things, this will always return. I can tell you that, if true, that every woman during lifetime finds that "their" scent, I found her in the SOFT and I am glad that it is your shop in bulk, which last longer. :) Thank you and wish you nice day (09.24.2015 - Christina K.)
Have you tried one of our perfumes?
Let us know
how you like it!
You might also like