Al Rehab Musk Al Madinah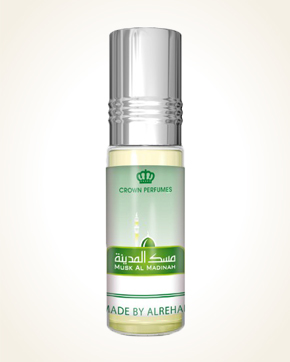 Al Rehab Musk Al Madinah
Concentrated Perfume Oil 6 ml
Out Of Stock
Concentrated Perfume Oil Sample 0.5 ml
In Stock
Description
The gentle fragrance with the introductory chords shows you the musky freshness of musk, to which is immediately added a creamy-sanded sandalwood that warms the fragrance with the first touch.
Combination with a light green note of grass and delicate orange blossom scent this time leads to cool freshness.
Warm yet fresh, the pleasant fragrance of Musk Al Madinah's dense perfume, whose intensity and duration will surprise many of you.
A pocket pack of oriental perfume, the big advantage of which is the small size (6 ml of perfume) so that it fits even the smallest handbag or pocket. In addition, perfume is very easy to apply using a ball in the bottle cap. So you can always have your favorite fragrance with you.

Customer Reviews (1)
My big favorite, however, is this delicate musk perfume with the scent of grass with orange tones. In a moment I got used to it. It is a wonderful feminine yet delicate to tender fragrance. It is not very intoxicating, but still distinctive and memorable. Really amazing perfume. I also appreciate its travel packaging and perfect roll-on application. (20/08/2014 - Blogerky.cz)

Have you tried one of our perfumes?
Let us know
how you like it!
You might also like