Swiss Arabian Khateer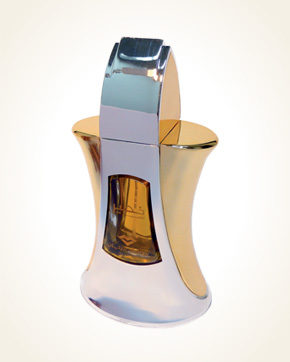 Swiss Arabian Khateer
Eau de Parfum 30 ml
Out Of Stock
Eau de Parfum Sample 1 ml
In Stock
Description
From this men's perfume you will breathe the pleasant power of warm warm spice, with the support of narcotic roses and cardamom, which gently caress male skin. We can say that its peculiarity attracts a very wide range of clients. Perfume is by its fragrance wave dangerously electrifying, its sensuality and urgency takes your breath and undermines your knees at the same time.
It will envelop you, just like a feathery scarf, into an intoxicating message with a heap of harmony. Mixed oriental spice with sweet oud oil enters the warmth of sandalwood lined with cedar wood and moss, supported by a gentle gust of musk. Ambergris stretches into tuberose and vanilla. And you, wherever you show up with this perfume, leave more than a fine trace, given that the danger that lies with the use of this fragrance is more than obvious. Your trace will stay in every place you go through, since the smell is particularly intense, you won't find a similar one.
The brilliance of the smoothness of the overall impression will easily take you and your surroundings to the calm that accompanies the commonly worn scents. Enter the world of danger with the feeling of magical uniqueness that will give you this perfume.

Customer Reviews (4)
I got Khateer today. That's what we can call a man's perfume. Especially suitable for muscular men with a character like Rambo. (Aug 31, 2016 - Tomas B.)

Dik !! Greetings from Blava !! Hi, Lenka and Jana dik for Khateer - Perfume! I've been using Khateer for 10 years, it's my unit! Oriental fragrances for info, I use at least about 30 years ... Ciao (04/07/2016 - Vlado S.)

Swiss Arabian - Khateer - I ordered for a friend for Valentine's Day and it was a perfect shot. Boyfriend is excited. He put aside his loved A * Men from Mugler, although these two scents have nothing to do with and capture the surroundings with these captivating, special gems. Someone wrote that this is a "unisex". I must admit that I cannot imagine using Khateer myself, but I consider it a truly disarming men's gem. Beautiful, unusual and quite sexy fragrance, which initially causes embarrassment by its intensity. A friend does not overdo it with a lot, but still smells the whole room that he passes. Perfume leaves a long fragrant trace. (Feb 16, 2016 - Lenka S.)

Brilliantly executed unisex. Imagine Kashkhu as a passionate and ardent woman, so Khateer is her masculine analogy ... A warm scent built on a dark oud base, an aromatic spice headed by cardamom and dry vanilla complements a breath of burnt caramel with its sweet bitterness ... all tinted rare sandalwood, resins and a little musk. Hot, dense and disturbing ... that's Khateer. (21/12/2012 - Renée H.)

Have you tried one of our perfumes?
Let us know
how you like it!
You might also like