Arabian Oasis Al Raaqi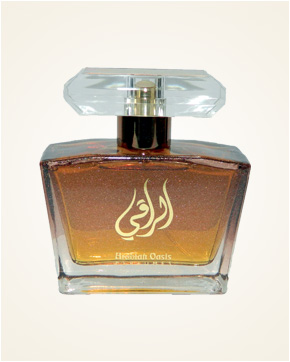 Arabian Oasis Al Raaqi
Eau de Parfum 75 ml
In Stock
Eau de Parfum Sample 1 ml
In Stock
Description
Let yourself be dazed by the wonderful scent of patchouli, which you will want to squeak at the opening tones of this irritatingly sensual, men's perfume. He takes sandalwood and oud oil. But she only gently peeks and watches from afar as a unique concert of aromatic oriental ingredients is playing to give you a completely unusual experience in the form of this perfume.
There is also a spice headed with nutmeg, cloves and the scent of white pepper. As the perfume smoothes down on you, you will also feel a light touch of menthol, which is seated on the softly flowing ambergris and musk. At the very end, there is a gently flickering scent of moss and pine needles.

Customer Reviews (9)
Great. Well thank you. I am pleasantly surprised by the smell of Al Raaqi. Looks like I'm going to stay with Arabic perfumes. I order another next month. Yours sincerely (28/02/2019 - Juraj D.)

Hello, Mrs. Lenko, I just came from Al Raaqi perfume and I am delighted with the smell. I have been using Paco Rabanne 1 Million and Acqua Di Gioia for years, but this has no competition. I am pleasantly surprised and will certainly stay with Arabic perfumes. Thank you very much. Yours sincerely (05/06/2017 - Tibor H.)

Hello. Thank you very much for the quick delivery. I received the product without any objections, and the Al Raaqi perfume sample is a hit. It is very nice and lasts for a long time. (19.2.2016 - Zbigniew G., Prudnik, Poland)

Arabian Oasis - Al Raaqi - absolutely divine fragrance !!! I feel most intense about cinnamon, clove, and nutmeg. After a few minutes, honey ambergris and sandalwood are added. The friend's fragrance is again deeper, darker and very attractive and sexy. I have already gone mad :-) !!! I write a list of the scents I want and in what order and increasingly I get tangled and groping. The original intention was to test the samples and find one, max two. But how can it be when they are all so amazing? Moreover, it literally spells and surprises every time. It's crazy ... (17/02/2016 - Lenka S.)

I chose Al Raaqi from the formulas and did not go wrong at all. Absolutely unique long-lasting fragrance. (05/02/2015 - Jarda M.)

Al Raagi perfume is amazing !!!!!!!!!!!!!! (2015-01-14 - Jaroslava N.)

... the samples ran out today and I'm worse off than I was. I can't choose, but I would probably take Al Raagi. So it smells too much to me. I put it on my hand a lot and tried to give it a subtle smell ... However, I should proceed intuitively and take what I like best by the composition ... But they are fantastic all. (12/16/2014 - Vlasta D.)

Al Raaqi and my husband and I spoke immediately, and he told me. "I have always told you that the best fragrances are Arabs from Arabia, it's quite different from" ordinary "European waters, because Arabs know exactly what true perfume means." I have to give him the truth and Al Raaqi unequivocally confirms this. The fragrance has wonderful development, beautiful drydown and incredibly great stamina. Certainly we will not stay with one bottle. (04/04/2013 - Sylva F.)

I made this delicacy to a friend, but I also go for it. It is a very balanced oriental composition, built primarily on spices with a woody base. Cinnamon with cloves and a little nutmeg, complete with scented sandalwood sticks, warm musk and sweet-bitter amber, smelling of dark honey, all underlined by a light oud trace that makes the aroma spicy. Oud is very subtle and decent, so it's good for those who start with it and their nose is not used to proper oudové pips. It reminds me of its softness and honeyness of the Cambodian oud. The stamina and intensity are excellent, and this guy's scent is pretty damn appealing. I feel very "strong in my hands", a little secretive and easily inaccessible. So super unisex! (2/15/2013 - Renée H.)

Have you tried one of our perfumes?
Let us know
how you like it!
You might also like