Khadlaj Tamayaz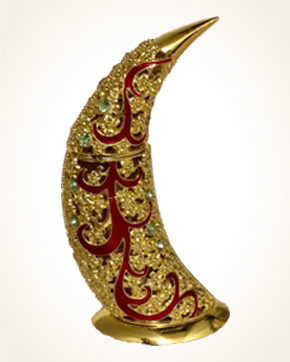 Khadlaj Tamayaz
Concentrated Perfume Oil 20 ml
Out Of Stock
Concentrated Perfume Oil Sample 0.5 ml
In Stock
Description
Richly decorated flakonek shape resembling the design of an Arabian dagger, it conceals an interestingly folded oriental perfume.
A fresh cool introduction include bergamot with a large dose of ginger and cool lavender. There is a juicy apple with a slightly sweet vanilla, in which a few herbal tones are slightly visible, dominated by soft chamomile and linden blossom.
And again there is a cool echo, now associated with mint. Its warming is ensured by white flowers of narcotic gardenia and opulent magnolia.
The entrance to the mysterious-sounding mystical notes of the oud is softened by the warm earthy smell of opoponax and deepened by the tobacco entrance, with its typically moss-balsamic nuances.

Customer Reviews (5)
Khadlaj Tamayaz - elegant fragrance in a beautiful bottle. I can't blame her. I would also like to buy Khadlaj Tamayaz Silver, but they are currently sold out. (9/15/2019 - Katarína E.)

Thank you for the gift, I ordered three samples. They all smell wonderful, but Khadlaj Tamayaz wins with me and her granddaughter. Beautiful heavy charming fragrance and therefore we order perfume, which has 20 ml and has a beautiful bottle. Thank you again for the settlement, (17/10/2018 - Alena M.)

Hello, thank you again for the incredible speed of order processing, yesterday ordered, delivered today ..., I'm looking forward to unpack the beautiful Tamayaz package, when I'm sorry to unpack, I chose from a sample that was amazing, thank you very much again even for the extra samples, they are really great scents, so I have a lot to choose from, your loyal customer (June 21, 2018 - Hanka J.)

Khadlaj Tamayaz: Stellar output of chamomile. On hot days you do not need much, especially refreshment, much refreshment. Arabic perfumes offer it in their comfortable and very specific style. But this is a surprise to me: Chamomile in the lead role. Healing tea as gentle as a caress, as we know it in connection with a child's moaning, so it is promoted to a flower in Tamyaz. Which means his aroma has gotten haut couture finishes. It's not the same chamomile you can feel from a bag of dried flowers. Of course you will recognize him by his typical pungent bitter dryness in the air. But you can hesitate for a minute if it's him because he's got into an unusual company. And it fits very well, even forming a kind of characteristic outer shell of the scent. Below it is a very sophisticated construction, from which the components, which naturally connect with the camomile and strengthen it. They are herbs, lavender and mint, softened by the wind musk to keep the aroma soft and soft. Delicate and non-glaring fruit and honey linden blossom are less obvious, but emotionally beautifying. The aroma is herbaceous and musky soft, cool and dry. The feeling of cold comes mainly from mint and deepens to the mossy earthy foundation. Tamayaz is very complex, maintaining the fullness of aromas and basically extending the herbal character with a multi-layered scent of tobacco, wood and resins. (9.7.2017 - Dzona - Breakfast in Perfumery)

Hello dear ladies, Thank you for the beautiful perfume, delivered as quickly as ever. I've only tried one - Tamayaz. Beautiful interesting interplay of the individual components, I have no similar from you. A jewel both in content and appearance. Stamina all day, as we are used to perfume oils. Here, a lot of music pays for little money :-) :-) It has its permanent place on my shelf. Your regular customer greets you (10.3.2017 - Jana B.)

Have you tried one of our perfumes?
Let us know
how you like it!
You might also like