Afnan Taj Al Arab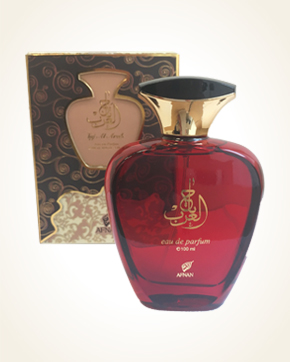 Afnan Taj Al Arab
Eau de Parfum 100 ml
Out Of Stock
Eau de Parfum Sample 1 ml
Out Of Stock
Notify me when available?
Description
Mandarin chocolate perfume introduction is complemented by styrax, which with its sweet exotic, sensual and slightly vanilla scent, shows the direction of the scent.
Another gourmet ingredient is vanilla. In this perfume it does not look sweet, it is like the smell of dry vanilla, which has something slightly bitter in it, perhaps it is mixed with roasted almonds and a pinch of neroli. The warm trace of sandalwood will start the serenade with oriental spices, headed by cinnamon, nutmeg and cloves.

Customer Reviews (11)
Greetings and thank you for a quick order processing. Again I was satisfied and I have ordered this fragrance for several times. She is amazing. (23/08/2019 - Jaroslava N.)

Thank you for the two fragrant shipments in the last few weeks. I'm excited to find your store, and I think you'll soon take away my wallet. I am already preparing the third order because I simply cannot resist !!! I would like to praise the fragrance of Taj al Arab! It is a beautiful fragrance! It is warm, chocolate, sweet, but not sticky at all, but very subtle and pleasant! Prostě nádherná !! I have to smell my wrist all the time !!! At the same time I would like to thank you for amazing services, your quick answers to my questions, fast delivery and for gifts for orders! You don't really meet that often! I wish you the perfume maniacs are still growing, because your store is one big fragrant treasure !!!! I've spent hours on your site, ordered lots of samples, and I still have a lot to discover! Your offer is endless! (7/13/2019 - Petra N.)

Taj al arab is also a beautiful fragrance. Sweet and pleasant. Full of fruits, chocolate, almonds and caramel. And when I combine it with Soft Oil, something so beautiful that I find myself in the perfume sky comes up. I love your fragrance and I have postponed the other European perfumes because they seem like a weak lotion. In addition, your professional and friendly approach, speed of delivery and great communication. You will always find the time and advice for me. No one will ever meet that. I am and still will be your loyal customer. I wish you a wonderful fragrant days and many happy customers. (5/19/2017 - Marie J.)

TAJ AL ARAB - a wonderful aroma full of fruit, chocolate, almonds and most importantly - the aroma of bitter-sweet caramel! I'm blown away. Confectionery - in a good way. I recommend. (May 3, 2017 - Jirina K.)

Thank you for your advice, I must say that Taj Al Arab fits me perfectly. I was expecting a stronger scent, the perfume as soft as a haze, which in no way detracts from its beauty. Something reminds me as if I knew the smell ... either I tried a very similar one from your offer, or I met someone who smelled of this splendor somewhere. In any case, I do not regret that I used your advice to buy this gem. (3/4/17 - Lenka S.)

Taj Al Arab is a wonderful fragrance! She has amazing stamina and enough people admire her! (11/07/2015 - Jaroslava N.)

Taj Al Arab - after a long selection I chose and I do not regret. I am satisfied and I will definitely choose another perfume. At the same time, I would like to appreciate the professional approach, speed and communication. It is pleasant nowadays to meet such professional services. (27/02/2015 - Stáňa S.)

The scents are amazing - beyond my expectations. Taj al Arab is wonderful as it comes out of the scent of chocolate and the sweetness overall, but just amazing ... well I have been enjoying since the package arrived. (Feb 24, 2014 - Petra S.)

Taj Al Arab - styrax, black, sweet and deep. This is the first inhalation effect. Blissful eyes and dreaming. About the dance, which plays bittersweet fragrant chocolate along with vanilla pod, little quality coffee and a drop of bourbon. Gourmet ingredients shake in the hot desert air, dry, settle in a dusty, warm cloud. It doesn't seem to be any more beautiful. Error. At that moment the bitter roasted almonds loudly appear and the dense sweetness of styrax reappears. Another wave of nirvana passes through the body with every breath, and it is a nirvana that lasts a very long time. (Nov 20, 2013 - Simona J.)

The crimson red gorgeous flacon conceals a sinfully beautiful fragrance, a masterpiece of Arabic perfumes. A strong emotional experience of blissful pleasure like a roller coaster ride, where we can inhale and break through several intoxicating peaks, mixed into the final hedonistic bang. Buckle up, we start. The multi-layered, fragrant fragrance is opened up by distinct, airy tangerines to develop a silver thread that slowly and unobtrusively binds us with each dip into the fragrant depths. Fresh drops of fruit are sprinkled with freshly grated bitter almonds and dusted with magical sweet styrax. A quick ride mixes everything, the main line now leads along the already developed almonds into a liqueur, floated with a fine cream of nailed vanilla pod. A moment of respite comes, the individual components blend together, smooth each other, the composition cools and accentuates, and its irresistibility is decorated with fragrant spices. Behind the bend there are baked apples with cinnamon and we softly land in thick chocolate. Oh. Surrounded by a delicate shimmering net, we remain trapped by gourmet delicacies of the highest quality, fragrance like a fluffy dandelion, yet still intoxicating, with a wide aura that surpasses time. Taj Al Arab could not like it, it would be a sin not to try the ride. (19/11/2013 - Andrea Ž.)

Gourmet orient. The dark red glass bottle evokes in my imagination a fully developed exotic flower, exhaling with its velvety flower petals the sensual and warm scent of dry vanilla pod, roasted hot almonds with chocolate, powdered cinnamon, cloves, a little sandalwood and orange blossoms. Luxurious sweet powder scent, referring to the best of Al Hoor and Dareen. On winter frosty days, it will take you to the sumptuous chambers of Persian palaces, where the princesses rest in silk cushions, the hot desert air flows from the ajar door, and the intoxicating scent of flowers and spices floats everywhere. abduct fantasies ... (21/12/2012 - Renée H.)

Have you tried one of our perfumes?
Let us know
how you like it!
Notify me when available?
You might also like