Swiss Arabian Private Oud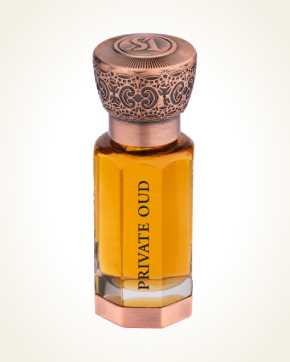 Swiss Arabian Private Oud
Concentrated Perfume Oil 12 ml
In Stock
Concentrated Perfume Oil Sample 0.5 ml
In Stock
Description
Gourmetly sweet, woody soft and gourmandly appealing - this is the fragrance of Private Oud.
The opening line of oud essential oil, which at the very beginning shows itself to be flatteringly seductive, with a deep tone of smoky echoes, with which the juicy ripe plum and the first of the floral notes - in the form of the queen of flowers, the velvet rose - intertwine.
With the addition of delicate chocolate with indulgent salted caramel, the fragrance turns into a directly erotic gourmand note, also with the help of whipped vanilla foam, which is decorated with tonka, to emphasize the sweetness with touches of cocoa.
A floral solo of jasmine and orange blossom joins these delightfully playful accords, so that oud essential oil returns to the scene in full force with a fleeting swing of earthiness, in the form of vetiver.
You can apply the fragrance using a glass stick, or replace it with a roll-on, which is also included in the package.

You might also like