Louis Cardin Sweet Scent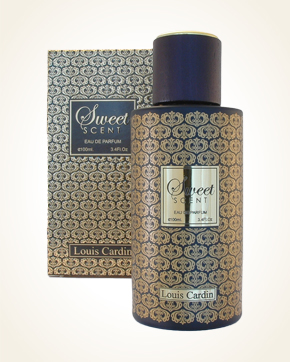 Louis Cardin Sweet Scent
Eau de Parfum 100 ml
Out Of Stock
Eau de Parfum Sample 1 ml
Out Of Stock
Notify me when available?
Description
Sweet - yes, and yet ... the sweet scent with all the trimmings will attack you directly with the first spray of perfume.
Let yourself be hugged by a large cotton candy with warm chocolate mousse. We continue to the juicy tangerine, the freshness of which is smoothed by cedar wood, to which several floral tones of soft-sounding meadow flowers are attached. Gourmet wool swaying with fluffy vanilla in which orange and strawberries are bathed.
The soft dot is a fluffy musk cloud with reflections of ripe raspberries and cherries.

Customer Reviews (4)
Hello Mrs. Lenko, I am just using Sweet scent and that's a wonderful smell. Full, warm, cedar, chocolate, some flowers and vanilla ......., it's not so sweet to me .... it's amazing and very praised by the surroundings. I think the Taj Al Arab might be similar in some way, but more airy, for warmer days. Thank you, I say hello and I wish you a nice day. (3/9/17 - Renata K.)

Good evening you have nothing for it and you are amazing you have perfumes at great prices and by the way nobody has it !!! and besides, you are happy to include them with every gift order and nobody does it :-) I really appreciate it. Sweet Scent smells wonderful, it is tasting in chocolate factory + caress from vanilla well just beautiful .. I would bathe in it :-) :-): -) (14.1.2017 - Kateřina Š.)

Sweet Scent - I was expecting a sweet vanilla treat with melted milk chocolate. Another surprise from the news ... good quality cocoa and dusty ground vanilla spread on my skin. The smell did not develop in any way; it remained in this position. It didn't bother me, but it didn't dazzle. It is interesting and above all it is good how the smell differs in every way. (11/9/2016 - Lenka S.)

Hello to Anabis, yesterday I received a package and I will be enjoying and I would eat my hand and please have a few of your "vanilla" Sweet Scent we and my friend liked already in the photo of your trip - we carefully ... so we devour everything and we are in Dubai with you :-) - but the fact is above the description. It's such a lovely cuddly vanilla, it's a sweetheart in the hair, the smell is magical. I smelled the scarf right away - I can't get enough, as I wrote - I would eat my hand and myself. I have chocolate completely associated with a chocolate praline with strawberry cream - yummy, and vanilla and vanilla again, yes. As well as thank you to Louis Cardin for Louis Cardin Gold, here are the big thanks :-) and to you for discovering it and bringing it for us. Thank you thank you - I'm in vanilla chocolate sky :-) (8.11.2016 - Lenka H.)

Have you tried one of our perfumes?
Let us know
how you like it!
Notify me when available?
You might also like