Al Rehab Choco Musk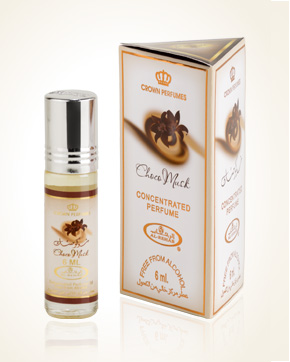 Al Rehab Choco Musk
Concentrated Perfume Oil 6 ml
In Stock
Description
Pocket pack of oriental perfume, whose great advantage is small size (6 ml perfume) so it will fit even the smallest purse or pocket. Perfume is also very easy to apply using pellets in the bottle cap. Your favorite scent so you can always have with you.
Perfume full of sweet and distinctive tones of vanilla, chocolate and caramel brings you directly gourmet aroma and the contribution of musk.
Customer Reviews (4)
Choco Musk - I was looking forward to the trdelniky and I felt the milk chocolate instead :-) But still it is a beautiful, delicate, sweet smell. No how our chocolate smell ... you can not even feel from afar! : -) (5.10.2017 - Žaneta B.)
Choco Musk, moooc me it smells and it's my favorite, everyone says it smells trdelníkách or cakes ... :) it's a luxury for luxury, but rather as a drug-yours ... thank our Perfume Bottles (January 5, 2017 - John C.)
Hello, I came upon your perfume from a friend. I wanted a change and after trying Choco Musk CPO 6 ml, I ordered. I'm excited - I love chocolate. I feel like a veil of chocolate. I wish you a wonderful day. Yours sincerely, (August 24, 2016 - Alena M.)
Choco Musk - beautiful sweet notes of chocolate, vanilla and caramel, gurmánka as embroidered, in conjunction with soft splendor (May 18, 2015 - Miloslav P.)
Have you tried one of our perfumes?
Let us know
how you like it!
You might also like