Surrati Jazeerat Al Oud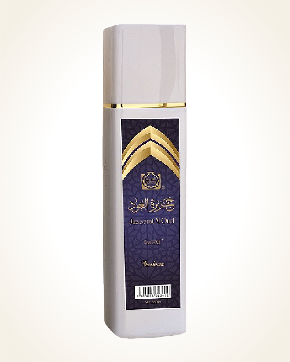 Surrati Jazeerat Al Oud
Air Freshener 500 ml
In Stock
Description
Oriental touches of rare woods, gourmet fruit and earthy echoes are hidden in a dark blue-violet bottle, in a fragrance that will appeal to both men and women.
A magnificent rose interwoven with velvet presents itself in a truly mystical duo with vetiver, its aromatic greens, the scent of roots, but also dry whiffs of dustiness.
White flowers appear, led by jasmine, accompanied by a bitter note of warm leather and echoes of gourmand accords of overripe, sweet cream-scented apricots.
Spicy sweet patchouli harmonizes with honeycomb, dry bitterness of mosses, warm powdery amber and together they highlight the woody line of oud oil, which gives the perfume depth and mystery.
Oriental air fresheners are very pleasant and delicate scents that you can use in the whole apartment, but also in the interior of the car. If you spray the air freshener into the air in a room where you have a carpet or a sofa - the scent will stick to them and pleasantly scent the entire space for a very long time. It is advisable to shake the spray well before application.

You might also like