Al Rehab Superman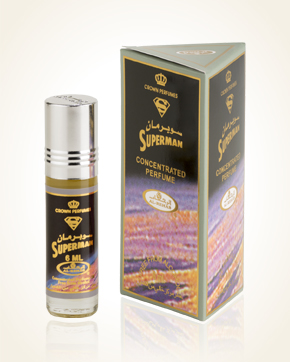 Al Rehab Superman
Concentrated Perfume Oil 6 ml
In Stock
Concentrated Perfume Oil Sample 0.5 ml
In Stock
Description
A pocket pack of oriental perfume, the big advantage of which is the small size (6 ml of perfume) so that it fits even the smallest handbag or pocket. In addition, perfume is very easy to apply using a ball in the bottle cap. So you can always have your favorite fragrance with you.
Very pleasant perfume, from which you get a special smell of linden blossom with a smooth oriental spice headed by cloves, cardamom and vanilla. Cedarwood and musk develop the aroma beautifully and give room for cinnamon.

Customer Reviews (6)
I had this fragrance with one wish: to remind me of the wonderful smell of linden blossom when the trees bloom. It was a blind purchase, "lipšie" perfume I did not find here according to the description of the ingredients or reviews ... The first impression on me Superman tried to make in conjunction with spices. He took it out; mixed a mixture of clove, cardamom, ginger and cinnamon and buried my face in this mixture. It was a force, but after all I can smell the spice in any form. Patience brings roses, I think (well, sorry, linden). When I was completely dazed from the spicy whirlwind, he took me to the bathroom and washed my face with carnation soap. I had those little pink carnations in front of them, they call them cloves. The lime tree is nowhere again, but the memory of Opium, the very original one, is inevitably forced upon me before the various offshoots and summer versions of it began to be made ... The memory is certainly pleasant, but ... where is the lime tree? I ask Superman a little disappointed. He's leaving and waving somewhere indefinitely ... maybe into our garden, where just one lime tree has flown. Superman is completely different than I expected, but never mind ... in colder weather he gets a second chance. I do not want to anticipate, but I think it will be a reliable heater and mood enhancer in harsh weather. (6/30/2019 - Petra P.)

Hello, I have arrived today AL REHAB SUPERMAN and I can only confirm the opinions of others that it is incredible, fabulous, I feel a mixture of lime, clove, cinnamon and ginger, I have been looking for something like this for a long time, though men, , thank you very much for the quick delivery, (6.11.2018 - Hana J.)

Superman is a scent that wakes up and kicks, a small package but great potential :-) simply beautiful. Happy Holidays (1.12.2016 - Jana Š.)

From the first moment I wonder why this very hilarious perfume is called Superman, the idea of a comic book character is persistent. Could it be for its super qualities like strength, durability, indestructibility? Understand the distinctive fragrance going into space with great stamina, even after a bath. All right, I take my imagination to mercy, come Superman, show yourself. A fresh forest wind floats the red pearl, the sharp tip of which carries for a moment a fleeting lemon grass with ginger, which was immediately replaced by the intense onset of wild spices. In the air grinder, the spice is ground to a fine powder, the breeze carries it to the Dales, where it is trapped with a sweet cinnamon and cardamom. A gentle soap stream is added to the now thoroughly blended, nicely smoothed mixture to bring a sensual musk, ending the oriental play of a seductively captivating scent. I know why Superman. As Clark Kent transforms from a timid reporter into a charismatic hero, so does a man who uses this perfume, a man dangerously irresistible. Perfume is referred to as men's, but certainly can attract all the fans of spicy fragrances. (4/21/2014 - Andrea Ž.)

Superman - cedar, linden blossom, cinnamon and ginger. I hope it will be available again. It is a fragrant bomb with excellent durability, and it reminds me a lot of Quarashi's Khaltat al Haram. (1/20/2013 - Sylva F.)

I was quite surprised by Superman, though gentlemen, I will definitely wear it myself. (March 5, 2012 - Dana N.)

Have you tried one of our perfumes?
Let us know
how you like it!
You might also like