Al Haramain Sultan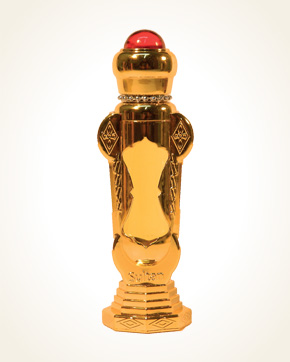 Al Haramain Sultan
Concentrated Perfume Oil 12 ml
Out Of Stock
Concentrated Perfume Oil Sample 0.5 ml
In Stock
Notify me when available?
Description
The sweet scent of the scent will draw you into the finely stacked tones of flowers and woody plants. In the introduction, rose shows in combination with jasmine and ylang-ylang.
Flower waves are wrapped in vanilla and sandalwood, with a gentle caress of peach and apricot. You will be seduced by musk along with lavender.
At the end of the fragrant spell there is a silky ambergris and a very finely added patchouli, which only delicately offers its scent.

Customer Reviews (6)
Hello, Al Haramain Sultan, I have to write Sultan is a strange scent, very, very strong at first, but after a while it develops and it smells unobtrusive all day ... nice. The scent literally surrounds you. I can't describe how I feel (20.10.2021 - Eva Š.)

So that's something - in a tiny bottle so much passionate smell. Sweet as seduction, hot as night ... oh ah - thank you and I'll look forward to another scent from you again. (02/07/2020 - Petra H.)

Al Haramain Sultan - this inconspicuous perfume was my first touch with the Orient. I found it unused in my mom's closet as an "awkward gift from Dubai" and at the first "sniff" I wrote it off as an unbelievable stink ... But after a few minutes, I searched for the fairy-tale scent that spread around me and found big surprise that it smells me! So the search on the net started and I discovered your fragrant world of the Orient! Greetings to Anabis. (27/08/2018 - Helena W.)

AL HARAMAIN SULTAN First of all, thank you for the quick delivery of another fragrant fairy tale, Mrs. Jana for a personal message, and especially thank you very much for the presents :-) Because I fell in love with Sultan from the formula, so now that I have it with me write your experience. I have this experience with him: Like opening the gates of a magical garden. At first, it adds to thousands of beautiful unknown fragrances, from which suddenly the individual fruit and floral tones begin to emerge. Then gently entwined hands of ambergris and patchouli come in. When the aroma has stabilized, a vanilla will sound like a crown on the head of an exotic princess. And the smell lasts incredibly long. When it fades away, I sometimes feel traces of honey. (06/02/2018 - Rena K.)

This perfume is definitely worth the attention, the Sultan CPO is a beautiful attraction with excellent durability and silage, where the ratio of price / performance is the number one star. Strawberries, pineapple and other fruits start with a rich, sweetly fruity-flower opus, which I first hear most of the sun-peached peaches with a velvety skin hiding nectar full of flesh. Juicy fruits are covered with flowers, among which tiny flowers of intoxicating jasmine and fresh flowers of delicate roses. A portion of vanilla is added, and at that moment, Sultan is transforming itself into a very edible form of Pedro's gum, literally. The gourmet fluffy aroma is very delicious to my nose. The sandalwood and lavender dance in a graceful step, the tones of which release the cheering sweetness into an airy garb, now only a sweetish and more fresh character. The finale of masterfully composed chords decorated with a patch of patchouli includes crystal-sparkling musk and soft ambergris that smooth the scent into an irritatingly elegant position. I enjoy it with incredible taste. (2/20/2014 - Andrea Ž.)

I didn't know the Sultan CPO up to now and actually didn't even think about it because of the name, somehow subconsciously I thought it would be more for the gentlemen, and it's wonderful! The amazingly sensitive processing of ambergris, sandalwood and vanilla reminded me of Al Haramain's Noora for a while on my skin, and it looks extremely optimistic and literally recharges my flashlights! I'm excited! (2/25/2013 - Renée H.)

Have you tried one of our perfumes?
Let us know
how you like it!
Notify me when available?
You might also like