Arabian Oud Solid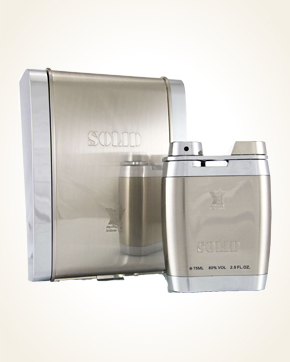 Arabian Oud Solid
Eau de Parfum 75 ml
Out Of Stock
Eau de Parfum Sample 1 ml
Out Of Stock
Notify me when available?
Description
Unique wave of vanilla in conjunction with a fruity touch, this is a luxury fragrance Solid from Arabian Oud, which will attract you even a very special, silver wrapping bottle.
Smooth, deep velvety sweet vanilla shows its magic in various keys, which blend with an amazingly perched apricot, which gives out its opulent ripeness and a slightly implied echo from a bitter stone. The gentle purity of musk in conjunction with the sweet oud oil has a sensual, breathtaking way.
It is a gourmet feast in which a honey bath with a hippopotamus mustard will be added to complement this delicate, yet very intense aroma.
Wrap yourself in the cobweb lace stroking scarf that Solid will bring you.

Customer Reviews (3)
Solid is - just solid. Packing ... Yeah, so I enjoyed it. I expected "something" interesting. You got me anyway. Solid Solid. Thank you for the shipment. And for the gift. I am impressed by the immediate reaction of your company to the customer's wishes. (05/05/2015 - Zoja S.)

I have to add that I fell in love, it was love for the first smell ..... love that knows no bounds, perhaps just drown in vanilla, in a beautiful heady cloud, soar, fly and dream that only SOLID I have to have. (Oct 24, 2014 - Jana S.)

Solid - lost but unforgettable Dareen !!! As I missed, I no longer have a drop, just the golden flacon decorates the shelf. :-) So that's something !! Now I unpacked it at work and squirmed sacred - yoooooo. This is what she can really do in Arabia, beautiful vanilla - both sweet and dusty. It is very nicely assembled and flacon as a "flask" adds a special touch :-) Just a combination of Soft, Amaal, Taj Al Arab and now in the lead role Solid - the piece was really successful (September 18, 2014 - Jana K.)

Have you tried one of our perfumes?
Let us know
how you like it!
Notify me when available?
You might also like