Al Rehab Soft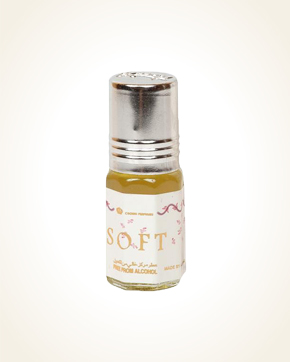 Al Rehab Soft
Concentrated Perfume Oil 3 ml
In Stock
Concentrated Perfume Oil Sample 0.5 ml
In Stock
Description
A pocket pack of oriental perfume, the big advantage of which is the small size (3 ml of pure perfume) so that it fits even in the smallest purse or pocket. In addition, perfume is very easy to apply using a ball in the bottle cap. So you can always have your favorite fragrance with you.
Orange flowers, along with chocolate full of bitter roasted almonds in this tenderly flowing perfume, will tie you up and, like a delicate cobweb, interweave a lemon tinge. It will take you to perfume dreaming and will not let go.

Customer Reviews (9)
SOFT. So putting perfume up to 3ml flastically is a luxury. Mix in a batch and apply quickly. As for the smell, I feel everything in the description. The intensity of the scent is neither weak nor strong. This is the golden mean. Thank you (20.08.2020 - Dominika J.)

And again I have to mention the magically sweet vanilla Soft. Some might seem "just" sweet, but it is not sticky, lasts all day and gradually moves somewhere to the powder - and beware! It is a scent that many strangers are worth of praise ... So many unknown people in my life praised nothing serious - until your Soft came and rewrote history :-D Greetings to Brno and I look forward to order some fragrant pleasure again (12/18/2018 - Katka H.)

Soft - it is already vanilla with citrus, reminiscent of Christmas vanilla rolls ... one of the scents that I love too .. and especially for the winter .. (16.12.2018 - Romana V.)

Al Rehab Soft - fragrance of almond-vanilla rolls with a touch of lemon peel. Beautiful sweet fresh gourmet. Surroundings immediately registers and looks for candy or candies :-) (27/08/2018 - Helena W.)

Ragged by the chilly autumn weather, I go back to my grandmother's warm kitchen and my nose is sharp between the doors, hmm something is baking here. I am greeted with a sparkling fresh lemon glaze, which initially overwhelms everything, but I will not be fooled and my olfactory cells together with a sweet tongue infallibly sniff out vanilla and homemade caramel. On the table lies a plate with still hot vanilla rolls waiting to be wrapped in sugar. They are poured into a bowl, the rolls are bathed in white powder. I'll take one and let the delights dissolve in my mouth. This is how addictions arise… The appearance of an ordinary sweet edible fragrance raises the sparkling citrus start to the heights of a gourmet experience to continue its perfectly embedded smooth vanilla with caramel almonds and a warm sandalwood note in the background. The harmonic chord of all components resounds with a dense, strong, yet slightly airy scent. A gently spiced sweet cloud that doesn't just disappear, spreads through space. Spoiled, brilliant, to eat (6.11.2013 - Andrea Ž.)

Sweet, distinctive, soft, so warm flowers sweetly scented with spring, softened with musk and vanilla. (May 16, 2013 - Simona J.)

Soft - vanilla, vanilla and vanilla again, it reminds me a bit of my darling Dareen from Arabian Oud or Amaal. Soft is "I Must Have It" or I Must Have. Beautiful vanilla and generous scent. (1/20/2013 - Sylva F.)

A beautiful sweet scent of vanilla, pears, roasted almonds and honey with a light whiff of liquorice stick ... Cuddly and fuzzy ... like a sweater of fluffy wool. Very intense. (21/12/2012 - Renée H.)

Several grating of lemon zest, puff of fine sugar powder, vanilla pod and almond slices… Sweet confection, fragile and still radiant by heat. Just grab it and sate one of the senses with at least a small piece. How eager we are! Saliva converges, but the hotness of fragrant temptation commands - don't hurry! So, for now, we can smell ... Soft is dominant with its sweetness, which gradually develops from the light aroma of lemon zest, through the sweetened bitterness of almonds, warm and dry, to a supple vanilla cream. The skin gently radiates with tireless intensity and the whitish sweetness becomes a fragrant aura around you. Sweet lure. (12/12/2012 - Dalia)

Have you tried one of our perfumes?
Let us know
how you like it!
You might also like