Al Rehab Soft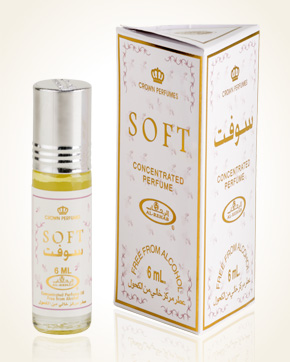 Al Rehab Soft
Concentrated Perfume Oil 6 ml
In Stock
Concentrated Perfume Oil Sample 0.5 ml
In Stock
Description
A pocket pack of oriental perfume, the big advantage of which is the small size (6 ml of perfume) so that it fits even the smallest handbag or pocket. In addition, perfume is very easy to apply using a ball in the bottle cap. So you can always have your favorite fragrance with you.
Orange flowers, along with chocolate full of bitter roasted almonds in this tenderly flowing perfume, will tie you up and, as a delicate cobweb, interweave a lemon tinge with vanilla. It will take you to perfume dreaming and will not let go.

Customer Reviews (18)
Hello came to me package with fragrance Soft-is beautiful, sweet, intoxicating. I use it every day and I really like it and last a long time. My friends are still crazy like a beautiful smell! Dakujem (06/07/2019 - Henrieta K.)

Greetings ladies from Anabis, yesterday I picked up fragrance samples in Brno and today I urgently need to order another :)) Samples will be tested individually, so far only the observation of my 12 year old son to oil AL REHAB SOFT, apparently smells beautiful - like gingerbread and Christmas and I prefer would bite into it. Today I wear Soft on my body and smells really beautiful, I think it is a fragrance created for winter days. (2/19/2019 - Eva P.)

Al Rehab Soft-chocolate, almonds, vanilla all mixed into a powdered foam that does not recognize the individual ingredients. It's such a sexy smell (something old with something new). (2/19/2019 - Rena K.)

Hello, Today I have received a shipment from you and thank you very much for fast delivery, a beautiful welcome and the wonderful fragrance of Al Rehab Soft. I came across your shop by accident when a client came to our salon in Prague and smelled the salon pleasantly :-). She smelled so beautiful that I had to ask her what she was using for perfume. Thank you very much for perfume samples Best regards :-) (23.11.2018 - Stanislava S.)

Hello everyone to Anabis and thank you so beautifully sweet smell. I order it over and over again, it is full, it is full, it is eatable ... it is sweetly gourmet, but it is not sticky, it can be felt everywhere I go. With the smell I grew ... Soft, it's me :-) thank you. Have a nice day to Dubai (May 13, 2018 - Iva K.)

Soft cpo - he's my sweetheart too ... maybe I haven't written about it before, but that's the smell really wonderful and so wonderfully sweet and rich ... but she doesn't bother absolutely by her unrelenting tireless sweetness ... she's just a witch, that surrounds you and literally engulfs you in your vanilla cotton candy with juicy citrus ... but it will never feed you ... and that is what its magic is all about .... still feed saturate ... but beware - you will never feed ... I will forever taste ... your mysterious sweet beauty ... Thank you for your existence ... fabulously fragrant sky ... health (12.7.2017 - Romana V.)

Soft CPO is scented with lemons, then suddenly I smell oranges and it all blends beautifully into chocolate and vanilla and smells and smells, it is a divine fragrance that is as light as a breeze but also sensual ... I feel pralines for change, yum, it I can ... :-)) (22/03/2017 - Jana C.)

Hello. I recently bought a bunch of roll-ons from you, and I'm trying it slowly. Yesterday I put on the scent of Soft and went shopping. My first impression was the citrus scent, and I didn't pay much attention to it. When I stood at the cash register at the first store and the shop assistant was telling me that something here smells beautiful, if I don't have some candy? So I am surprised to say that not that I only have perfume, but that it seems to me citrus..drinka said that it is sweet, how sweet and sweet smells and that she apologizes if she somehow bothered me ... So I replied I didn't like it :-) At home I blinked at the composition, because I didn't feel it so much and it really is a sweet smell :-) I am addicted to the smells and I am always pleased when someone praises it: () (11/12/2016 - Andrea Y.)

Hello, perfumes from you are the best (I don't buy others anymore) and still someone tells me how beautiful I smell. I prefer Soft CPO and there are sometimes interesting reactions. :-) Many people do not even think that this beautifully sweet can smell perfume, so maybe the lady in the coupe thought aloud what it smells. The bus driver thought I was carrying a candy. The tobacconist told me he would bite me ... so thank you and I wish you a lot of happy customers like me. (08/23/2016 - Simona H.)

Hmmmmmm so SOFT really got me. I have a lot of oils from you already, but such a strength and stamina and above all the beauty I did not expect. Usually fragrances are soft and adhering to the body, but Soft is something. Holder all day and the smell, I would eat myself :-) I always think that I have nothing to discover, but the opposite is true. Thank you !!! (7/31/2016 - Lenka G.)

Al Rehab - Soft CPO 6 ml - it stopped me at first and I must admit that even a little bit of a citrus discouraged me. Like dipping your nose in a container of pound of lemon juice ... After reading the reviews, I waited for a delicate, intoxicating scent. I overcame the initial urge to scrub a citrus attack with a brush and gave Soft a second chance and .... paid off. I have to agree with others, Soft is amazing! I spray EDP into my hair and clothing, I apply CPO on my temples, neck, décolletage and wrist, and then I just get carried on the almond, vanilla chocolate cloud. Even the next morning after waking up (after the evening shower !!!) my hair smells beautiful, not to mention clothes, smells for several days. Beauty! (1/26/2016 - Lenka S.)

Thank you for the SOFT gift, it's a godly scent and you made me happy because you stopped offering PINKY PINKY which was almost identical and I was quite dependent on it. I've saved myself with the last flask and now I got a treasure from you, which replaced it, so I order 5 pieces right now, because PINKY PINKY alias SOFT is a fragrance that has always been praised by both men and women ... is inimitable, absolutely unique and with amazing stamina. Thank you, (January 12, 2016 - Tatjana M.)

Soft CPO - absolutely divine fragrance, which is never enough, I ordered now 3 pieces, I wrote in the summer, what is the response of other people who asked what it is a wonderful fragrance. It is a pity that it is no longer AMAAL, it was my charming darling, I have at least the beautiful bottle. These scents were similar. (05/01/2016 - Milena P.)

Hello, I picked up a perfume at the post office today. Everything went well, the package arrived. The fragrance of SOFT is absolutely perfect for me, I know it because of the connection to the oriental dance I devote to, and I have been using it for several years, and even though I tried others, I will always come back to it. I can say that if every woman finds her "her" scent during her life, I found it in SOFT and I am glad that your shop has it in a larger package that will last longer :) Thank you and I wish you Have a nice day, (September 24, 2015 - Kristýna K.)

Soft CPO - absolutely delightful smell of almonds, chocolate and lemon, which must not be missing in my collection together with Amaal, it is such a wonderful smell that when I stood at the bank, the cashier told me that for a long time she wants to ask what a wonderful smell that she has never felt anything like. So for your fragrances, just all the chvááááááááááála, no matter what perfume I wear, so they are delighted with the splendor. And my sister-in-law from Poland, she fell in love with your scents. Great compliment for your professional choice. Thank you (21.6.2015 - Miloslava P.)

Soft - sheer beauty, the smell of white chocolate with orange and a little lemon that adds intensity. The whole is like a blast of something absolutely fresh and intoxicating. A fragrance that will amaze and enchant everyone, whether they like sweet or spicy. I really did not find a single exception, everyone smells too much and must never be missing. Great similarity to Amaal, so if I do not have a great perfume Amaal, I catch up with Soft :-). Amazing combination with Choco Musk and Golden Dust from Khalis - mix of chocolate, vanilla, almonds, musk and whole with orange and fresh citrus flavor - dangerous combination :-). Together with another pocket CPO Yaqootem the best !!! (3/8/2015 - Iveta W.)

Soft Fragrance Evaluation, Al Rehab - For a detailed description of all the possible fragrances that are reflected in the Soft fragrance I miss the words. However, the aroma is wonderful, sweetly fruity and lasts long, long. With every movement I smell and I am excited about it! (February 11, 2015 - Svata R.)

Soft - although I do not prefer sweet scents, I have to say that Soft is really boozoic. I was afraid of boundless sweets. But soft isn't just sweet. In the beginning, the sweetness is dampened by orange peel, later roasted almonds appear. Sandalwood also contributes to sweetness suppression. I can't help it, Soft evokes the scent of rum in me. If Soft were solid in form, I would definitely bite him with vigor. (11/14/2014 - Martina M.)

Have you tried one of our perfumes?
Let us know
how you like it!
You might also like