Al Rehab Saat Safa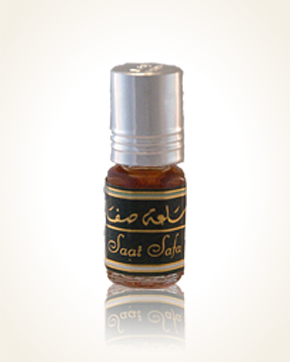 Al Rehab Saat Safa
Concentrated Perfume Oil 3 ml
In Stock
Concentrated Perfume Oil Sample 0.5 ml
In Stock
Description
Pocket package of oriental perfume, the great advantage of which is the small size (3 ml of pure perfume) so that it fits into even the smallest purse or pocket. In addition, the perfume is very easy to apply using a ball in the bottle cap. So you can always have your favorite scent with you.
Bittersweet oud essential oil with citrus, brings an intense aroma of oriental saffron intoxication, which is bound by an amazing patchouli and finally softened with musky touches along with a uniquely served rose and jasmine.

Customer Reviews (5)
Saat safa - nice oriental beauty, softly spicy, non-violent and sandalwood pleasantly soft nose. Medium endurance. I always have this little beauty at hand. I recommend. Thank you for your magical shop that offers so many beautiful scents that will always please. Your Customer (12/11/2019 - Gabriela K.)

Saat Safa ... additional review to this little guy who evokes me in sensual imagination..beautiful sweetly spicy composition with great stamina. it would be a larger version of the spray .. but I tried the combination .. Saat Saafa by the ears, under the chin, pulse points, wrists, and the garment and neck I applied Marina. , this combination develops perfectly.

Hello, thank you Saat Safa has arrived to me today, I am excited, a wonderful scent reminiscent of soap purity with an oriental touch and stunning stamina, thank you, (April 18, 2017 - Hanka J.)

Saat Safa - another wonderful fragrance. Spicy, strong, full of smokey smoke and excellent durability. (5/15/2013 - Simona J.)

Saat Safa is orient with spice sandalwood, oranges with oudu, the smell is very very pleasant, not violent, with beautiful stamina, dose of oudu in any case will not beat any tasters of Arabian fragrances. I highly recommend this beauty. (1/20/2013 - Sylva F.)

Have you tried one of our perfumes?
Let us know
how you like it!
You might also like