Royal Diwan Rooh Dubai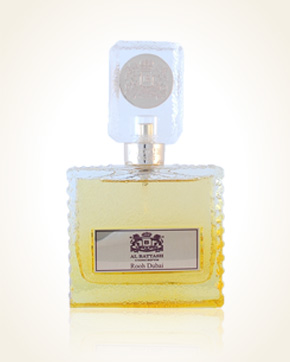 Royal Diwan Rooh Dubai
Eau de Parfum 100 ml
Out Of Stock
Eau de Parfum Sample 1 ml
Out Of Stock
Notify me when available?
Description
The Al Battash Concepts line shows you elegance combined with an irritating seduction. Perfumes breathe luxury and refined taste. We bring you the first one - Rooh Dubai.
Completely uniquely composed fragrant concert is composed of very attractive, luxurious fragrant essential oils, dominated by a soft, velvety iris and vanilla with musk.
Vanilla shows us in a gourmet seduction full of rounded warmth and fine dustiness. Her intoxicating tones warm the cold-sounding iris. With his leathery note, he adds just like the curtain of a flickering labdanum. Delicate nuances enchanted by fruit tones will be presented by a Bulgarian rose.
The tempting chords that vanilla can conjure are complemented by a cloud of sensual musk. The duo of these two ingredients is a fragrant, irrepressible passion that both binds and caresses.

Customer Reviews (5)
Rooh Dubai is beautifully sweet and fragrant. Certainly a sub-season with Golden Sand and Lamsa Gold, which I also like. She scolds indefinitely and decomposes into a soft warm form. The work was well received. Colleagues after my oud phase, which they could not survive, now fall off. I keep changing perfumes like Mumayz Black, Taj Al Arab, Musk Abiyad from Afnan and more. They smell great. (1/6/2016 - Stanka L.)

Rooh Dubai - a delightful soft fragrance dominated mainly by vanilla. The subtlety is such that if I smell some significant perfume before, I hardly feel it. It smells better on my clothes than on my skin. One cannot even describe how beautiful it is. He really deserves the title "Perfume of the Year". She feels like my sister to perfume from Al Rehab - Golden Sand. They are very similar. Golden Sand is such a cheaper version. But they are not exactly the same - nor can they be. I am excited even though I bought this perfume blindly only according to the composition. I'm glad I had the opportunity to take advantage of the discount - for which I am very happy. (10/6/2015 - Jirina K.)

... Otherwise to Rooh Dubai .... my 8-year-old son loves her when I smell, so he still seals me and sniffs me :-D. And it holds very well, the shirt still smells of perfume after washing. (9/17/2015 - Jana Š.)

Hello, thank you very much for the treasure I just received. I can't blame what Rooh Dubai's vanilla beauty is. I am very happy about everything and everything smells wonderfully over the terrible cold that grinded me. Thanks again. (September 16, 2015 - Peťa Š.)

I found out that I want vanilla most power and I miss it too much. :-) Although I just smelled at our meeting, I long for her all the time :-), so I order. (Sep 15, 2015 - Petra S.)

Have you tried one of our perfumes?
Let us know
how you like it!
Notify me when available?
You might also like