Al Haramain Rainbow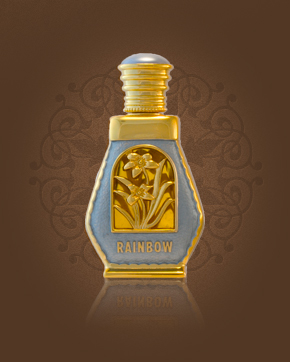 Al Haramain Rainbow
Concentrated Perfume Oil 15 ml
Out Of Stock
Concentrated Perfume Oil Sample 0.5 ml
Out Of Stock
Notify me when available?
Description
For lovers of seductive and mysterious smells with smoky overtones comes Rainbow. Roses, roses, and roses again, together with the unique smoky tones of scorching precious rosewood, show their depth. Perfume seduces every drop, it guides you through the pink fields. The lily of the valley also presents its desire to show you its loving embrace, in its fragile beauty.

Customer Reviews (2)
Rainbow is a fragrance full of secrets for a night meeting for two. Roses, tobacco, fragrant wood smoke - beauty, attractiveness and seduction :-) (7.4.2013 - Pavla K.)

The smells brought me back to a happy period full of traveling, discovering and meeting people, and perhaps even those past lives, home. The absent expression and smile on my lips lasted until now, and I am going to work within an hour, immersing myself in the rainbow flacon and exposing my body to the sun in my imagination. I will take this opportunity to thank you once again for the extraordinary experience to which you have contributed by your pleasant behavior and attitude. You know, the joy that could charge you is somewhat less, the more you get to your feet meeting nice people and distant parts. Not only the wonderful scents that - as we said yesterday - aroused all the senses, but also your narrative about the journey to your dream was very motivating in the sense that one should not stick back to your imagination and that every dream is with sufficient will achievable and overcome obstacles. I do not consider any meeting accidental, that yesterday with you brought me an elevated mood, pleasure and knowledge that we can still experience something nice. Surely it wasn't the last. (3/25/2013 - Milena K.)

Have you tried one of our perfumes?
Let us know
how you like it!
Notify me when available?