Afnan Provoke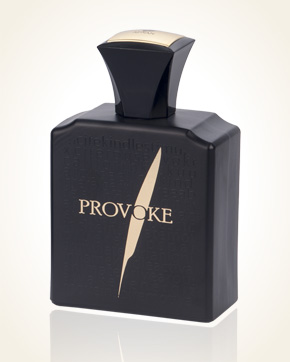 Afnan Provoke
Eau de Parfum 100 ml
Out Of Stock
Eau de Parfum Sample 1 ml
Out Of Stock
Notify me when available?
Description
The introductory introduction of sweet vanilla along with the deep scent of rare resins and the typical trace of oud oil creates a long and distinctive tone of orientally bearing perfume.
The sweetness of the spice is suppressed by a bitter wave of herbal delicacy with a directly mystical duo of earthy oak moss and leathery labdana.
The patchouli is shown in full swing with a slightly soapy earthy fragrance, embraced with the smoothness of the velvety ambergris and the dry smoke echoes of the vetiver. The floral composition, headed by roses and daffodils, is wrapped in neroli and delicate musk.
The perfume is carried in warm spicy tones with woody echoes in a luxuriously folded scent of the orient, when in warmer changes it sounds on women and slightly bitter with a drop of expensive cognac on men.

Customer Reviews (4)
From Provoke's sample she caught not only me but also my son. So I ordered the full size. And instead of perfume is not in my bedroom with other treasures from you, but it confiscated our 16-year-old son :-) :-), the scent is soft, smooth and cognac, with such a "tail" of light orient, the son is Feel the sweet sweet wood with the cleanliness of the soap and the smoke somewhere in the back .... it's the second perfume he likes so much from your menu that he wanted it for himself. The first is Naema Black. Have a nice day and a lot of satisfied customers like us (10.8.2016 - Petra H.)

After a long decision, I voted for Provoke and Scentanium. Provoke is fairly bitter with smoky patchouli and complements well with the skin. It's animal perfume that both me and my colleagues like ... :-) :-) I found the smell of what I was looking for. Have a nice summer (7.6.2016 - Jiří Č.)

Provoke edp will not deny the Orient. A distinct bitter oud trace permeates the entire perfume, accompanied by a metallic icy patchouli tint, earthy and bitter, later bitter grasses are added. Very special is the base, which does not change, is significantly aldehyde. The soap impression lacks sweetness, on the contrary it is accompanied by a clean fabric softener line. At the end, there are leather tones in the form of freshly made gloves. (08/07/2014 - Simona J.)

... this fragrance is very, but very similar to Miss Oudh, which I own and also Soleil de Jeddah from the luxury brand Stéphane Humbert Lucas 777, has the same bitterness of smoky skin and ambergris. (01/05/2014 - Renée H.)

Have you tried one of our perfumes?
Let us know
how you like it!
Notify me when available?
You might also like