Afnan Precious Oudh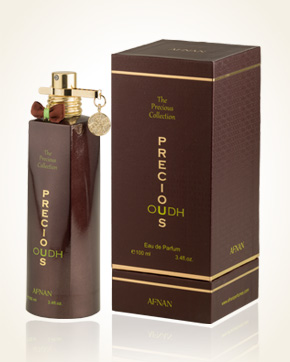 Afnan Precious Oudh
Eau de Parfum 100 ml
Out Of Stock
Eau de Parfum Sample 1 ml
Out Of Stock
Notify me when available?
Description
Precious is a brand new line of five Afnan fragrances.
Oudh perfume, by its name, shows that we will feel the Orient here in the mysterious echoes of all nuances of oud oil, which is associated with amber, warm-sounding touches of oriental spices and tender floral footprint.
The woody luscious oud oil, combined with the full aroma of rose, is completely immersed in the soft embrace of the velvet amber. In warm waves comes the oriental spice headed by cloves, gourmet vanilla, cinnamon and nutmeg. The combination of deep and uniquely composed chords of the mystical duo amber and oudu creates a magically irritating perfume.

Customer Reviews (3)
Out of curiosity, I bought Precious Oudh and after the first use I thought I didn't like it a bit. He was too strong, too intrusive and had too many "personalities". After half an hour I was forced to reconsider my opinion and the day after I finally understood the perfume. To be unnecessarily pathetic, in short, it is a perfume for men. Not for a guy, not for a boy, but for men. (2/2/2015 - Jaroslav BK)

The biggest surprise. I didn't like it, so I tried only a small drop. And immediately I added more. Oud? Rather rough, fringed skin, very dark, with dark chocolate with ninety percent cocoa. Not completely sweet. Unique. Though she reminded me of a fragrance - Myrrhiad Huitieme Art, but without the sweetness and its considerate softness. This is a great smell that wants the wearer - and the wearer - with charism. Strong and simple in its elegance. And what I really like about it is the feeling of soft intertwining as the initial illusion of the skin changed to a clear oud. As if there were two pictures. (1/30/2015 - Dzona)

Oud with a huge dose of gingerbread spices and extra portions of cinnamon. A lot of hot and dry scent, I feel dry scraping saffron and dry black skin. (1/30/2015 - Katka)

Have you tried one of our perfumes?
Let us know
how you like it!
Notify me when available?
You might also like