Afnan Precious Gold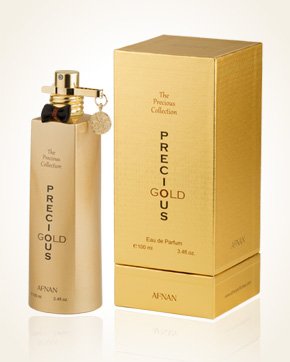 Afnan Precious Gold
Eau de Parfum 100 ml
Out Of Stock
Eau de Parfum Sample 1 ml
Out Of Stock
Notify me when available?
Description
Precious is a brand new line of five Afnan fragrances.
Gold takes us to the vanilla interplay of charm and seduction. Here vanilla blends into all the shades of precious woods and combines with the flower garden, which is headed by the majestic queen - the rose.
In the introductory chords, Gold introduces vanilla finely dry and dusty, which develops with the contribution of sandalwood to a stunning gourmet appearance. The tender echoes of the floral lure show more and more a gourmet note of a sinfully sensual vanilla.

Customer Reviews (6)
Precious Gold - amazing fragrance, beautiful flacon, such a whine, tie, stopper - well in one word - great, already exposed to favorites ... :-) Gold is a balm for nerves, I still smell ... :-) I'm like in paradise, thank you, thank you, thank you, you deserve Metál, it is nice that you, as I wrote, I will not buy perfume elsewhere ... and thank you for the little, amazing perfumes, you know how to entice you to buy more , which means that I buy for my daughter when she chooses ... :-) I wish you a nice scented day (29.12.2015 - Jana C.)

Afnan - Precious Gold - Santal and vanilla feel most intensely. Later there will be some spice on my skin that I can't recognize. Amazing scent that works for me like aromatherapy. It reassures me perfectly, evokes a feeling of well-being and complete safety. I guess I wouldn't vote for some special occasion, but for casual wear I find it perfect. Another bug in the head ... (3/5/2015 - Lenka S.)

Finely ground vanilla sugar with sandalwood. It is not sticky sweet, it is a selected delicacy with unusual kinds of a lot of aromatic spices, maybe one that we do not know in our country and which is used in the Orient for sweets and pastries. (1/30/2015 - Katka)

So this is a bomb. I can see it completely in front of me: Dusty woody spice melts in the sun into a supple mixture, its goldenness really comes from the sense of smell. Not to mention the illogicality of the melting spice, there is really nothing greasy, the smell remains dry. Of the familiar perfumes, she reminded me a little of Caron's violet Aimez Moi, probably a dose of star anise. This Gold is for all the money, ready comfort in the bottle. It has the greatest strength of the entire set, comparable to perfume oils, and immense endurance. Ends like a woody vanilla. (1/30/2015 - Dzona)

Gold belongs to the winners and Precious Gold ranks unequivocally among those who hold the triumph in the form of gourmet orgies. Starring a beautiful sweetish vanilla that delivers grades of rose and sandalwood, even though they have only a supporting side to deliver that famous sparkle. The density of vanilla shatters the flowers of bright orange roses and together they create a warm golden dust that intensively envelops our body. Over time, as the fragrance settles on the skin, the floral radiance diminishes and the sandalwood slowly wakes up. Dark fragrance, deepening into a sensually irritating position with a shade of chocolate, as if a beautiful new gold jewel gains a unique patina by age. A luxurious combination where the rose enhances the vanilla and adds a touch of elegance, while the sandalwood ground it nicely to keep it from flying. I wear beautifully… (19.11.2014 - Andrea Ž.)

Precious Gold - beautiful vanilla, unsweetened, pure, beautiful, as if kissed by a musk in flight, which so wonderfully smells smell ... (12/11/2014 - Romana V.)

Have you tried one of our perfumes?
Let us know
how you like it!
Notify me when available?
You might also like