Paris Corner Pendora Black Spice Orchid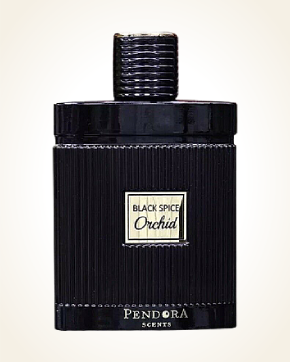 Paris Corner Pendora Black Spice Orchid
Eau de Parfum 100 ml
In Stock
Eau de Parfum Sample 1 ml
In Stock
Description
The magnificent scent of Pendora Black Spice Orchid opens with dark sweet tones of spicy black currant and black truffle tones, into which other fruit tones melt, this time dark forest fruit with its deliciously sweet note.
The sensual line of individual chords merges into a uniquely composed concert, which mixes herbaceous earthy patchouli with a touch of greenery of grasses and mosses, with chords of gourmet gourmet chocolate pralines, complemented by a slightly bitter hint of citrus bergamot.
The cream-tuned ylang - ylang harmonizes with the beauty of the black orchid, to which the rich vanilla wool winds its echoes, accompanied by soft woody tones of sandalwood and mysterious incense.
The scent is deep and seduces with every drop of its fragrant nectar inside the black bottle.

Customer Reviews (1)
PARIS CORNER PENDORA BLACK SPICE ORCHID - based on the composition and description, I was expecting a very strong scent that goes into the space, but to my surprise, a gentle, silky soft scent lingered on my skin. Frankincense, sandalwood and vanilla combine in a gentle embrace with dark forest fruits. It will certainly smell different on every lady, but for me this perfume is made for a lover of sensual perfumes who, despite her penchant for mystery, does not want to be the center of attention, and therefore Black Spice Orchid will be a decoration for her, intimately clinging to her body. (26.06.2023 - Lenka, Germany)

Have you tried one of our perfumes?
Let us know
how you like it!
You might also like