Paris Corner Killer Oud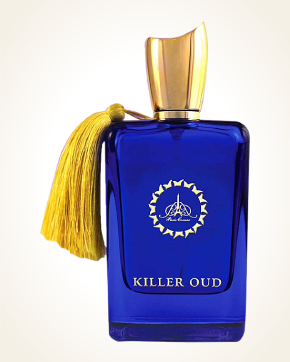 Paris Corner Killer Oud
Eau de Parfum 100 ml
In Stock
Eau de Parfum Sample 1 ml
In Stock
Description
Intensity with scorching heat, this will be the first thing that comes to mind with the first sprays of the intoxicatingly seductive scent of Killer Oud.
The introduction belongs to a slightly bitter, citrus bergamot, a few tufts of musk with oriental spices, which fully resonate with cardamom, oregano, cloves and cinnamon, with which smoky balsamic tones intertwine, with the mysterious depth of sounding incense.
From these depths stands a flower concert, played in a score of red roses and white intoxicatingly binding magnolias and gardenias. The aroma thickens and heavens, its sounds are unruly seductive thanks to the chords of animal skin, whose bitterness is in perfect harmony with fresh pepper.
Rare woody plants unravel their softness with tones in sandalwood and cedar, which are entered by a honey-smoothed, velvety-braided amber in harmony with smoky labdan.

Customer Reviews (2)
Hello, thank you for the amazing fragrant package we received on Friday. Originally, Killer Oud was supposed to be a partner, but when he smelled it, it's such an electrifying scent that I had to try it on myself. a waw !!! just perfect, the intensity alternates with quality ingredients, Peter comes out mainly with wood with oud and spices, a little more oud essential oil with a sweet "tail" made of leather with a flower, which I can't recognize ... :-D Killer Oud je really great perfume, even a married couple reacted to their partner when returning the carts in front of Tesco :-D :-D that it is said that the lady can ask what it has such a great smell that she can feel it even through a respirator !!! Well, it's really a very hilarious scent, which we both feel from our shirts even after washing, and it settled beautifully into my silk scarf, which I still wear. It's an oriental with everything, rough and soft, it's warm, just beautiful and the endurance ?? there is no mistake again! Thank you both and we look forward to discovering the news again, what your notification came today! We wish you good days and especially everyone in Anabis good health! (May 25, 2021 - Jana and Petr H.)

Right after the first scent, my tongue itched… I wanted to make a note of the non-fitting name of this fragrance, which makes oud a perfume villain, but why repeat when I mentioned it at Killer Oud Nights of Arabia. If something can be easily intimidating, then it is the primary tone of the earthy-medical amber, which I can imagine in a cauldron of a forest witch rather than in a bottle. God forbid what he intends to do with this potion… But bitter herbs will soon make room for flowers and sweet spices. The scent reminds me of Violet Bouquet from Afnan, even though her floral heart is white and not purple. At the base, the "holy trinity" artfully casts sandalwood, incense - labdanum. I like this combination a lot - not only in perfumes, but also in fumes that I mix. Killer Oud is the driest of all three scents of this mini-series, but definitely not less feminine. It is so… almost sacred. And to that beautiful… (10.12.2020 - Petra P.)

Have you tried one of our perfumes?
Let us know
how you like it!
You might also like