Pheromone Perfumes Oud Remad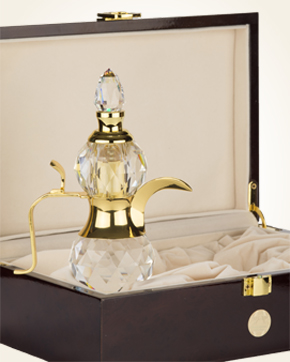 Pheromone Perfumes Oud Remad
Concentrated Perfume Oil 8,5 ml
Out Of Stock
Concentrated Perfume Oil Sample 0.5 ml
In Stock
Description
In a very luxurious, crystal-glittering flask - hides an oriental, sensually fruity, heady spice - blazing through the heat of the desert and cooling the depths of the sea - a scent that lures its fabulous sounding gill.
Let's open a heavy crystal flacon, reminiscent of a genuine Arabic coffee pot, and enter the fragrance game of seduction.
We begin with tones of precious woods, showing their chords of heavily breathing, sweetly overripe apricots with apples.
The first solo for the uniquely sounding oud oil is coming, bergamot is added with creamy ylang - ylang and majestic tones of rose.
Oriental spice lazily dissolves in a dense honey bath that slowly swings into an earthy herbal patchouli. There are cold, slightly bitter chords of green leaves, the warming of which emits dust vanilla with a gentle musk.
At the end, a beautiful-sounding rose reappears on the keys of a barely perceptible smoke of smoldering woods, accompanied by a warm trace of leather and velvety ambergris.
The smell of luxury will tie you up, the smell of luxury will caress you, and the smell of luxury will ...

Customer Reviews (4)
Hello, dear ladies from Anabis, today I received an ordered sample of OUD REMAD perfume from Pheromone Perfumes. I am not an expert in recognizing the individual components, but for me it is a scent that resonates with me and creates in me a great feeling of well-being, pleasure, peace and that is what perfumes are about, a feeling, a caress of our female soul. OUD REMAD is a highly luxurious, beautiful, elegant, smooth, perfectly laid out exclusive fragrance. Expensive ingredients can be smelled, no ingredient screams, the scent settles wonderfully in a perfect harmonious scent, creating a "second skin". Endurance is adequate to the quality composition. I still sniff my wrist and close my eyes happily, I inhale the scent deeply, but aromatherapy! Like many of you, you've made me an "addict", but it's a wonderful addiction! (13/04/2021 - Iveta S.)

Good evening, yesterday I got luxury samples and among them Oud Remad, I test it first. After a glass teapot I have been watching for a long time, the flacon will not let me sleep :-) and the smell - oh, I'm hanging out, it's an oriental dreaming, drops carry me to distant places somewhere behind the marketplace especially the oud and some fruit. The smell is enough to tap, and it is full, as Sylva writes. It is beautiful and not at all dark, it is more or less glittering - sparkling - I do not know how to express it - it is a fragrant treasure. This year my baby knows what I long for and I can't wait to fulfill my wish :-D (16/11/2019 - Jiřina H.)

Today I got a luxury fragrant treasure called OUD REMAD - a splendor that took my breath away. I know the smell of the summer pattern, but scenting a beautiful cut crystal bottle with a glass rod is a completely different dimension. Irresistibly seductive scent of jasmine, wood with ylang. Slightly orientally colored. In the distance, tall wine glasses of Genoese glass clink, oud as mild as a lamb filled with thick pink extract. Hard to describe. Ťupka will flood the entire interior and exterior. The smell of Arabian origin in the European spirit. I am dazed by it with happiness, joy and lightness of being. Ideal for the ritual of fragrance a la Arab princesses and sultanas, ie after the hammock in our country after the shower or after the bath pass a glass bar of flacón from the tips of the toes to the ear lobes. The reward of fragrant molecules that adhere to the skin is long lasting. OUD REMAD is worth the sin even in winter. I recommend at least try and I think you can not resist. . (11/29/2017 - Sylva F.)

Hello Leni, what does not let me sleep at all is OUD REMAD from Pheromone Perfumes - here they had to add something magical, that I grabbed my heart. It reminds me of a seemingly "normal" oil, but she decays so amazingly, with a rose, a gently clinking oud and an apricot that it is absolutely irresistible. It's hot and cold. Of course the heat does its thing. Yesterday I was looking for a pilgrimage church in Angel Mountain, which is on a hill and going steep uphill initially, Oud Remad warmed up and showed itself in an even nicer beauty after mixing with the great effort of my body. (20/06/2017 - Sylva F.)

Have you tried one of our perfumes?
Let us know
how you like it!
You might also like