Nusuk Oud Hindi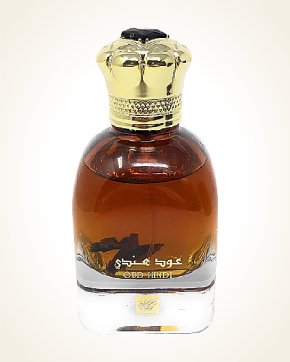 Nusuk Oud Hindi
Eau de Parfum 90 ml
In Stock
Eau de Parfum Sample 1 ml
In Stock
Description
Oud Hindi is a specific perfume blended with oud essential oils.
The Cambodi and Indian oud essential oils are intense, full of contrasts, depths and the true Orient.
Oud mixes with herbaceous earthy patchouli and only slightly smoothes, the scent is really very strong, enchanting and mystical.
These unmistakable chords resound soft-sounding sandalwood accompanied by the honey warmth of amber velvet and a few balsamic tones, to which is added just behind the curtain a hint of aeration, which is added by a light kiss of musk, which is again completely embraced by oud power, each shade and are designed for connoisseurs of these heavy scents.

Customer Reviews (2)
Good day, I already have a considerable collection from you and incl. I inhaled well over 60 scents of all the samples. I'm not much for writing reviews, but NUSUK OUD HINDI forced me to. When I smelled it for the first time, I almost choked, what a whip it was. "Well, not this in life!", I thought. I always test a new formula every day. And I already wanted to go wash it off. And luckily I didn't! Because after some time I realized that I have a constant tendency to smell my wrists. Over and over and over. In the evening, I finally said to myself that it was actually quite possible to survive. The next day I perfumed myself with a different sample. And I found that I miss HINDI. I kept trying to find that sharp smoky leather scent and still couldn't find it. Finally, I went to wash off the "normally pleasant" sample and went to pour the rest of the perfume on myself. Shamelessly and flamboyantly, what I was able to extract from the tester. On the third day, I fished for the very last miniature invisible remains with a hookworm. I don't know what it's like to be addicted to drugs. But some are said to take just one dose to make a person fall for it. So NUSUK OUD HINDI is exactly her. Unbearable at first, but eventually you can't live without it. So the order for the full version immediately followed. I just don't know how to describe it. The smell really annoys me, but at the same time I can't live without it. This has never happened to me in my life!!! (01.11.2022 - Hana J.)

You need a little patience to appreciate the quality and ultimately the beauty of this fragrance. If you make a first impression, you will probably be frightened by the mixture of bitter herbal potion, smoke from burning wood and the breeze of horse stable. If you do not put your feet on your shoulders after this introduction, you will witness the magic. The smoke almost comes out, the stable closes, the wood cools, and finally the honey-sweet amber and musk smells. Oud Hindi is the essence of boyhood for me. One that constantly forces a woman to sniff and wonder at her loved one, that it has an enchanting scent. (02/07/2022 - Petra P.)

Have you tried one of our perfumes?
Let us know
how you like it!
You might also like