Afnan Noor Al Shams Silver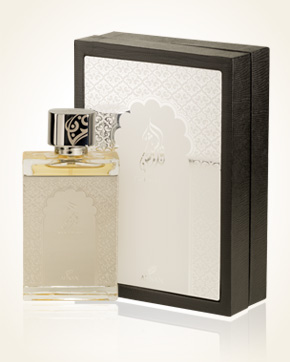 Afnan Noor Al Shams Silver
Eau de Parfum 60 ml
Out Of Stock
Eau de Parfum Sample 1 ml
Out Of Stock
Notify me when available?
Description
Noor Al Shams is a collection of two brand new Niche perfumes from Afnan, of which Gold is for women and Silver for men. Luxurious fragrance, luxury gilded or silvered flacon will enchant you with the beauty of the Orient.
Silver spreads in tones of oriental spices, warmth of woody plants and mystical oud oil.
Enter and be enchanted by the very rare Kashmir saffron, aromatic sweet clove, spicy nutmeg, or gourmet vanilla. The leathery note of Labdana comes with a bewitching wave of oud, which develops into the warm woody keys even with the fragrant grandeur of the gentle ambergris. The delicate aroma of the Turkish rose is enveloped in the deep scent of moss and vetiver. The earthy herbal trace of patchouli in a unique combination with balsamic tones and warm cognac will only appear lightly.
Let yourself be seduced by the addictive wave of gourmet sensuality that this excellent perfume will bring you.

Customer Reviews (3)
Noor Al Shams Silver: Shaggy cuddling. Imagine that: Shaggy powder wood, shaken like a duvet, in which you fancy a lot of dark chocolate. Softness, comfort, gourmet serenity. The brown hour is underlined by the appearance of leather that remembers something but does not smell. It only gives the smell a sharpness that brings those comfortable experiences to heaven. It kind of smells like Noor Al Shams Silver. He reminded me of Precious Oudh from the Precious series, but next to him is Silver (even) more intense and most importantly - from its powder-wood chocolate emerges thick forest honey. Surprisingly, I noticed him sometime during the second rehearsal because he is more aromatic than sugar sweet. Moreover, the smell is very well connected and smooth and does not change, which is just good. (Feb 27, 2015 - Dzona)

Noor Al Shams: Mr. Afnan's Gold and Silver. My tip: They can be worn together because they are fine. I had Gold on one hand and Silver on the other, and I liked it. Silver is a calm strong mob, which coexisted quite well with the restless and changeable Gold. They do not interfere, but mutually reinforce each other. (Feb 27, 2015 - Dzona)

Afnan - Noor Al Shams Silver, when I was a teenager, bought my beautiful brother-in-law from Cologne - Canada, I was so ecstatic that he had to buy it for me. Since then I have not seen anything like it .......... when I put on Noor Al Shams Silver (January 18, 2015 - Jaroslav K.)

Have you tried one of our perfumes?
Let us know
how you like it!
Notify me when available?
You might also like