Naseem Inferno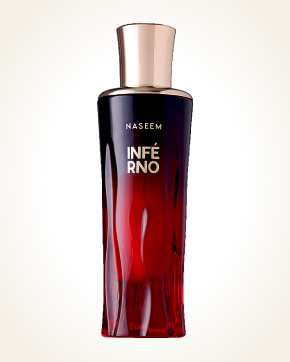 Naseem Inferno
Aqua Perfume 80 ml
In Stock
Aqua Perfume Sample 1 ml
In Stock
Description
Aqua Parfum Inferno is a mysteriously sensual fragrance, carrying fiery passion and mystery that opens with a warm tantalizing clove, spiced with balsamic elemi, with notes hidden in citrus allure and a slightly bitter trace of leather echoes, emanating from rare saffron.
The spicy cinnamon floats into the mysterious notes of incense, which accentuate the deep-sounding notes. Dry accords of smoky vetiver open their embrace to the sweetly oriental and floral nuances presented by Nagarmoth.
The final touch of vanilla woody echo from gurgun balsam leaves a trace of sensual elegance on your skin.
Naseem Inferno Aqua Parfum with powder and is produced without the use of alcohol. Before use, shake the bottle well so that the powder component that settles at the bottom of the bottle can disperse and the fragrance ingredients combine, so that you can experience the pleasant sensation of applying the fragrance to your body, preferably right after your morning shower.

You might also like