Naseem Burhan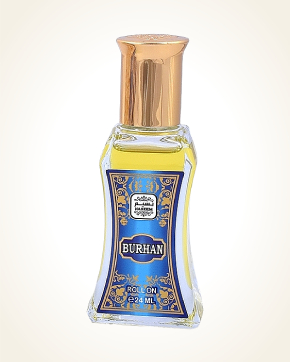 Naseem Burhan
Concentrated Perfume Oil 24 ml
In Stock
Concentrated Perfume Oil Sample 0.5 ml
In Stock
Description
Yellow-orange Africans attract a spicy, bitter fragrance to walk through the garden, where chords of precious woods blend with a fully developed, orient-filled, oud oil. The herbal spice of Afrikaners with hard-breathing oud permits into their wads an abundant embrace of saffron, which intertwines between nuances of dryness and at the same time animal warmth of the skin.
There is a hint of a cloud of white, spice-stranded, flowers that resonate with dry tobacco leaves and the mossy smell of wetlands from the forest.
The dry line, along with the bitter, very distinctive trace, blends through the entire composition and shows chords in the changes of dark-grained tone of green, accentuating the men's accents of irritating fragrance, as if the implied metallic undertones to the sensual skin line.

Customer Reviews (1)
Hello, Mrs. Lenko. About two or three weeks ago, I received a fragrant parcel from Anabis. I ordered samples, of course. For the first time, the samples came together for me - I was curious about all of them, but you can't rush oriental perfumes, so I tried them all and remembered only one well. After those two or three weeks, I tried Naseem's Burhan again. What is my surprise that I first passed this sample without much interest! I can't describe the scent very well, I don't know the individual ingredients. Everyone also smells different. So I'm looking for words and I can only think of one thing - Burhan, that's playfulness that needs to be taken seriously! I can probably just pick up a citrus touch with an undertone of something urgent that softens the perfume and calls for attention. I used to think that Mukhalat al Oudh was my favorite and nothing beats it. But Burhan has confused my head and I am afraid that I will order it in the near future. Thank you for this kind of aromatherapy! (13/03/2023 - Monika P.)

Have you tried one of our perfumes?
Let us know
how you like it!
You might also like