Al Haramain Najm Gold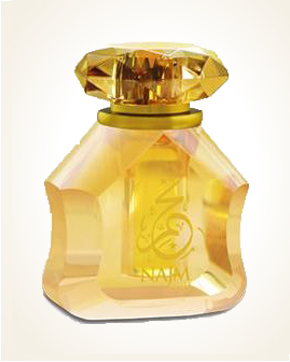 Al Haramain Najm Gold
Concentrated Perfume Oil 18 ml
Out Of Stock
Concentrated Perfume Oil Sample 0.5 ml
In Stock
Description
Gourmet fragrance from the highest spheres of perfumery - that's Najm Gold.
The gourmet interconnection of vanilla with musk and sandalwood creates a seductive explosion of irresistibly flowing keys.
The velvety sway of sweetly sinful vanilla, together with the gentle citrus aroma of bergamot, dissolves into the sensuality of musk chords. The passion of fusion of delicious coconut shavings and sandalwood finishes with a fragrance full of heat and elegance.

Customer Reviews (2)
Najm Gold is another representation of luxury gourmet vanilla. I close my eyes blissfully and let myself be carried away on a sweet wave of soft vanilla, to which is added a thick, stretched caramel, fluffy with a few coconut shavings and a sparkling bergamot. My senses are dazed by a sinfully seductive fragrance, perched on a cloud of feathery musk with an electrifying sandalwood backing, and my perfume soul melt with bliss. Najm Gold is a top class delicacy with great stamina and beautifully going into space, served in a crystal flask as a brilliant jewel. (06/04/2015 - Andrea Ž.)

... I opened the Anabis package yesterday and I am absolutely enchanted by the Najm Gold perfume to the point that I want one more. ...... Arabs are real masters in perfumery. (3/4/2015 - Zuzana K.)

Have you tried one of our perfumes?
Let us know
how you like it!
You might also like