Al Rehab Musk Al Aroosah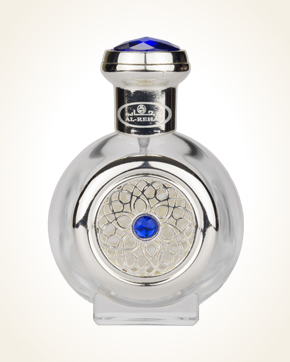 Al Rehab Musk Al Aroosah
Concentrated Perfume Oil 15 ml
Out Of Stock
Notify me when available?
Description
Thick, white opaque oil, incredible fragrance breathes on you after opening this bottle. Fragrance light, powdery with a hint of orient, simply exclusive. It gets you with its unique composition, it must be, because musk is one of the basic aromas of the Middle East.
If you prefer delicate fragrances, you are right here, as if you are just starting out of the sea, your body is moist, scented with sea air, the heat of the sun.
It has amazing stamina, so just a few drops that rub into the skin and smell and smell. Perfume is very dense consistency and beautifully carries on women and men with its seductive overtones, which accompanies musk fragrances.

Customer Reviews (4)
Musk Al Aroosah - musk is beautiful, immediately after taking over I tried with a drop of water to spread the arms and face and smell wonderful. .... and chocolate candies .... Mrs. Wech, please think of our line, it will be spring and the delicacy of such goodies is as irresistible as the smell. Have a nice day and thank you for your willingness. (03/03/2016 - Zuzana K.)

Musk Al Aroosah - incredible fragrance, directly opulent, divine, luxurious ... at work they were all nice, they came to me, just to talk, they smiled like they were drunk ... but we were drunk from that wonderful musk fragrance ... I didn't say I had a fragrant musk, only two colleagues knew it, my colleagues were embarrassed, even smelling and asking me what it is, maybe it's magic, magic ... they didn't care all today ... .wonderful, Mrs. Lenko, thank you very much for a beautiful bottle, even nicer smell and perfumes and chocolates as gifts ... :) (2.3.2016 - Jana C.)

yesterday I received perfume Musk Al Aroosah. It's a magical scent - I really like it. That's what I was looking for. But I was very surprised how thick the oil was to sticky. I use the scent "moist". I apply perfume on moistened skin and it works better - smell the smell over my hands and décolletage and it smells beautiful. It definitely won't discourage me. The smell is beautiful. I will definitely order again. (5/12/2015 - Jiřina K.)

... Thanks to your advice I was able to succumb to Musk Al Aroosah perfume on my very first order. Though dense and spread best on moist skin, the unique and long-lasting fragrance is always and forgiven. I work with people. If I use this perfume, I observe that clients suddenly are not in a hurry and are still smiling. Brave ladies ask what it smells like, it's a very pleasant smell. My spoiled skin only allows me to use perfume oils. If I am born again, I want to give away joy in the form of fragrances like you! ": -) .... Mrs. Lenko, thank you very much! I will find you know exactly what makes me happy and what type of fragrance you want to add. You are a professional. I am really happy to be able to afford your beautiful oriental perfume Days without your fragrances I can not imagine .......... (8.7.2014 - Alena V.)

Have you tried one of our perfumes?
Let us know
how you like it!
Notify me when available?
You might also like