Afnan Musk Abiyad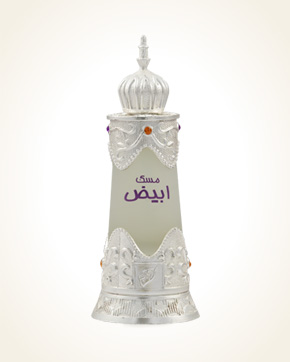 Afnan Musk Abiyad
Concentrated Perfume Oil 20 ml
In Stock
Concentrated Perfume Oil Sample 0.5 ml
In Stock
Description
Musk Abiyad CPO perfume won second place in all of you - Oriental Perfume 2015 , which took place in autumn 2015 and in January 2016 on our website www.anabis.com and Facebook.
As the name suggests, it is a beautiful snow-white musk scent.
Musk shows us its beauty in softly fresh tones, complemented by rose chords that seem to cool the scent. Charming expansions with pleasantly laid tones of sandalwood and white oud oil, which elevates the whole composition into an incredibly beautiful and very long-lasting scent.
Musk Abiyad binds you and embraces the velvety sensual tenderness that is deeper and fuller in the oil version.

Customer Reviews (33)
Hello dear ladies from Anabis. First of all, I want to thank you for the quick delivery of my first fragrance package. I accidentally discovered you on fb. I did very well to click through your site. I was enchanted by the magnificent flasks and the description of each fragrant treasure. I received my first package today. All beautifully packed. After unpacking, I began to cry from the moment I moved. You have made my dream come true because I am a great smell lover. I didn't even know that something so beautiful could exist. My choice was completely random. Only according to your great descriptions of scents and reviews. I chose really great. Afnan Musk Abiyad perfume oil is a soft delight for my senses. It is a long-lasting fragrance. It's so nice and soft. (02/10/2019 - Lea M.)

Hello, I recently purchased AFNAN MUSK ABIYAD from you and I am excited. The fragrance is tender, soothing, as if "stroking", an amazing representative of the category "soap shampoo; powder", but at the same time retains a certain amount of freshness. And what about flakonek - is like a thousand and one nights! With this perfume I also enjoy the traditional stick application, which I remember last time from my grandmother's perfume many years ago. I wish you many satisfied customers and we are planning another visit with you (26.9.2019 - Jana Š.)

Good day nice ladies, tsar or almost smell of Arabic perfumes I too. I'm captivated by the smell of pizza. My favorites are clearly the SURRATI ROYAL MUSK perfume water and AFNAN MUSK ABIYAD perfume oil. They are both gorgeous, fleshly, but at the same time I feel very attractive, feminine self-confident with these fragrances. For me, they are the ones I knew inwardly, but I haven't discovered them in any perfume yet. It occurred to me that they smell like linden flowers or bases, or agates, which I cannot cope with in nature, I just feel good through my nose and life is beautiful. Here are both perfumes for me. So far, I only have them in the form of samples, but I can't wait to buy whole bottles for the next month. Probably both at the same time. Thank you again. (14/06/2019 - Iveta Š.)

Good day! I would like to thank you for the correct delivery of the ordered goods.Afnan Musk Abiyad is a wonderful fragrance. Yours faithfully (23.5.2019 - Helena M.)

Afnan-Musk Abiyad ... OUR, HURÁÁÁ ...: - D Fellow daughter is satisfied ... thank you very much all three ... Iren, Barča, Jenny (24.4.2019 - Jana C.)

Good day everyone. I must confess that I was very skeptical about these perfumes. But what awaited me in the package took my breath away ... Wonderful !! I already know that the next order will include Afnan Musk Abiayd. But I'm not nearly done with testing. I would like to thank Ms. Lenka for her help in choosing the perfume and the whole team for their helpfulness and prompt delivery. (3/29/2019 - Martina M.)

Afnan Musk Abiyad: I like the soft, body-like, clean scents. The Musk Abiyad pattern impressed me with its delicate line, amazing stamina. After applying the scent, I feel natural, like a woman freshly showered and dressed in a white translucent scarf ... In a word - beauty. At work I also smell Al Rehab Soft together with Khalis Golden Dust - an excellent combination of fragrances with vanilla, yummy! :) Thank you also for gifts to buy. You are a regular customer now (7.3.2019 - Eva P.)

Dear ladies of Anabis, today I received another fragrant package ... since January when I discovered Anabis, it is probably the fourth. I sniff the samples I ordered and others I received from you as a gift. Thank you very much, I have a lot to test for a few weeks :) I also ordered a large package of scent Afnan Musk Abiyad, it is a beautiful, tender smell, but it is like a time bomb. After a few hours it turns into a seductive and sinful smell, so total satisfaction for me. Khadlaj Snakes will be packed in the next order, the sample convinced me that this is the right fragrance for me for the summer season. Ajmal Aurum is love at first sniffing, he can not leave anyone in peace. I hope to see the moment when it will be back in stock. I am glad that I can be your customer :) Thank you (13.2.2019 - Iva M.)

Now I am caught in the trap of oriental fragrances. I ordered samples that were delivered to me about a week ago. And so I gradually tested until I discovered pure love in the last sample. Aftan Musk Abiyad got me .... Anabis is a shop full of fabulous scents. I'm looking forward to saving crowns and ordering my favorite. (1/21/2019 - Ivana G.)

Dear ladies, the order was quickly processed again. Special thanks to Nikol, for a written message and a gift, I already know what one of my other orders will look like. Rating Afnan Musk Abiyad .. so I had to wait for this beauty for a year. At first, oud was not comfortable at all. I only had a tester that I gradually got used to. But it was worth it. The smell is strange, novel, the powder tone is full thanks to the oud and develops better. None of the Europeans will come close to this. It is a completely different dimension of fragrances. Absolutely original! I'm excited! ... Pheromone Perfumes Attitude Femme ... nice surprise. Initially it does not sound, but after a while the aroma develops into a pleasant vanilla mood. It can be beautifully combined with other essential oils, and I always find something new there. Like when you want to breed a new variety of flowers. (1/14/2019 - Rena K.)

Hello to Anabis. I recently brought AFNAN MUSK ABIYAD from you and I am not surprised that it is first in the best selling. Splendor!!! Every time I look at your site, I find that I need a new perfume again. Is it no longer a diagnosis? :-) (21/10/2018 - Zdena M.)

Musk Abiyad's fragrance is an intimate affair, a tender, fragrant gem ... it smells a drop of roses, citrus ... and adds femininity to musk. She's really special, for me. Thank you very much. (10/13/2018 - Iva J.)

Afnan Musk Abiyad - wonderful splendor. I bought the whole package according to the sample. This is my No1. I haven't smelled anything nicer yet. Pure delicate white musk with a droplet of rose. Scent tender, angelic. I wear this scent every night before bed. It is my aromatherapy, it creates a feeling of peace and safety, without it I can not fall asleep: -DA flacon is a decoration of the bathroom. (27/08/2018 - Helena W.)

Hello. Thank you for the warm welcome to the world of oriental fragrances. In the meantime, I am looking for perfume and I chose your walk around the Orient. So far I have tried Zuhoor Al Haramain and Afnan Musk Abiyad and I have to say that especially me "oil" absolutely got. Beautiful, gentle, intense, fabulous, intimate fragrance. Finally I found what I was looking for :-D. I enjoy testing the samples and I look forward to ordering large packages. But it will be hard to pick. Thank you for your order and gift. (7/26/2018 - Helena W.)

Musk Abiyad CPO + EDP - no need to pay any obeisances to him, everything has been said ... my crowds of admirers ... but he enchanted me !!! I have to share it with someone! I have bravely avoided him since I fell into the magic of Anabis and the Oriental. I was discouraged by a number of supporters and, most importantly, by the mention of similarities with Cloe. Spring had begun, and I longed to have some new and extraordinary perfume for the summer. Suddenly, Musk Abiyad started to soak me so hard ... He's perfect! She has as many faces as a woman herself. It is as soft and as pure as a baby. She is gentle and innocent like a fragile girl, and at the same time she has a refined sensuality as a woman who knows what she wants and can be herself. It also contains a depth hidden in the wisdom of an experienced old woman. She can caress a woman's soul and wake a tomboy sleeping deep within us ... (17/05/2018 - Lenka S.)

Hello ladies, Thank you for the prompt processing of my order, and for your personal approach. I am more than excited about the aroma of Afnan Musk Abiyad !!! The review of this oil was beautiful, and influenced my choice. I can say that the smell exceeded my expectations! Now I know that I fell in love with these scents of the Orient and that this order was certainly not the last. Thank you and I sincerely (22/03/2018 - Alena B.)

Musk Abiyad - So I already have my Abiyad! It is a wonderful clean fragrance, like washed laundry with lavender starch. So long I tried the formula until I discovered at the last drop that I absolutely need the whole perfume :-) Thank you very much (24.1.2018 - Žaneta B.)

Good late evening, I want to thank you for the very prominent handling of my order. The perfume I ordered - Aftan Musk Abiyad - I met my girlfriend ... I couldn't get enough of the scent ... she was pure, feminine, captivating ... just amazing ... I work at a hotel reception ... and the smell that hovering around me is just superlatives ... I'm sure I order another when I miss this .... I personally take the view that a woman should just smell .... and this smell just complements my personality. Thank you and I wish you many happy customers. I also wish you a happy holiday and only good New Year. (17/12/2017 - Alica Č.)

Hello Mrs. Lenko. Thank you for your quick order processing. The fragrance package came in perfect order. I could not resist, and despite all the resolutions, that I could give the scent to the tree, I unwrapped it. Exceeded all my expectations. Aftan Musk Abiyad oil is amazing, after applying intense fragrance, which gradually develops into fine powder tones. The scent lasts all day. I finally found the right smell. Thank you for the great web offer is really very comprehensive. Yours sincerely (11/12/2017 - Jana N.)

Hello, Mrs. Wech, thank you for the very quick processing of my order, I already have the package arrived in perfect order. Musk Abiyad is beautiful, it is simply a fairy tale. Smooth, tender fragrance, even sweet, no, but just exceptional. Despite being so soft, it leaves a beautiful fragrant cloud behind the hands. I'm still wanking :-). Well, the package, wow, it's beauty. You made me very happy. I showed the perfume to a colleague and I think we will send another order shortly. I hope you have enough Musk Abiyad :-). I wish you wonderful fragrant days. (11/27/2017 - Ivana J.)

Hello, Musk Abiyad CPO and EdP perfumes are all right. I've already bought them with you and I have only a few drops left ... So I don't know if I hide them under the tree, or I can't stand it and start using them. Everyone around me has already become accustomed to this fragrance with me and I cannot imagine that I would smell any other fragrance than from you. It happened to me several times that I walked somewhere and immediately asked if I was there, that they smelled my perfume. (11/14/17 - Kateřina K.)

Have a nice fragrant day, just delivered to my work courier package from you and so I could cover myself in the wonderful musk fragrance Musk Abiyad - I have almost a year at home formula and always postponed the fragrance saying that I'm not sure. Last week I put it on my wrist in the evening and after a long time I slept all night beautifully :-) your oils are really aromatherapy. Perfume bottle with a divine fragrance. Thank you. I already look for news, I think Hareem Al Sultan will be my cup of coffee? When everything is inserted, I will order the samples and make your birthday happy again. Thank you very much for everything. Oh, and the almond dates - that was a luxury. Golden dot after lunch. (02/03/2017 - Lenka G.)

Thank you for your kind email and good luck, so let the onslaught of lovers (and lovers) smell good. Perhaps you will be at least a little happy that thanks to you and your team people are happier. These scents are simply different from our European ones. It's not just a splash splash and go. True, maybe the same for EDP variants :). But when I apply Musk Abiyad - oil perfume with a glass stick, it is almost a ritual and meditation at the same time :). I did not perceive that before I started using Arabian fragrances (thanks to you). Just open the extraordinary bottle of Musk Abiyad, with a stick to rub the oil behind the earlobes and the inside of the wrist, which then involves touching each other's right and left wrists .... and then the hatching smell .... a real meditation ritual: - ) so really thanks for you !!! Good luck to Anabis for years to come. (08/12/2016 - Kateřina Z.)

To date I own a total of three white musk scents: Al Alvani - Rooh Al Musk, Surrati - Royal Musk and Afnan - Musk Abiyad. All three are gentle thanks to musk, thanks to the flasks very original, each differentiated by different grasses, woods, perhaps even citrus ..... They are soothing, clean, suitable for moments of relaxation, rest, but also for everyday use, they are unobtrusive, it clings to the body, but at the same time it smells. They are of high quality. I made my dream come true. Thank you, ladies from Anabis, for bringing us such pieces. At the same time, I greatly appreciate the redesign of your site, which is now very clear and very often I will enjoy it. Hopefully I will make another dream come true - look in Dubai. I wish you many happy customers and I wish you all a lot of health and many beautiful scented moments. (11/1/2016 - Helena B.)

Now I have unpacked Musk Abiyad and it is truly breathtaking dazzling ... Fine, clean luxury ... I perceive precious intoxication, even "drunk" Immersion in cleansing, soothing and sensory restorative baths ... Flacon - splendor. Although I'm in my office between numbers and files ... I just have a problem with the fact that I should take the pack two, so I do not have to carry. Damage. I've always used Guerlain, Chanel or Hermes. They weren't bad .. But this struck me literally with a blow ... catapulted into a chair ... It's an element of a kind of exceptionality, a state of weightlessness ... I wish you success in your work, peace and joy in your lives. Thank you .... (19.8.2016 - Marie Š.)

Hello, thank you very much for your quick order processing and nice approach. The fragrances from your store are beautiful, I have a lot of samples, the most popular is Musk Abiyad, whose large package I finally ordered. It is a scent of purity and elegance, I am very satisfied. Based on the evaluation, I also ordered the Lightning fragrance (Louis Cardin), which is still a bit more vanilla than I expected. Anyway, even this fragrance has something very interesting. I will look forward to more and more fragrances. Health (19/08/2016 - Ivana B.)

Hello. Today I took over the perfume package. Musk Abiyad CPO charmed me. A beautiful, pure fragrance that slowly develops into a velvet veil. Wonderful tones, lightness and sensuality are the scents I was looking for. Also, the Scentanium fragrance formula is also a challenge for a feeling of change. Both scents are beyond my expectations. I just became a customer of your company and I would like to try other beautiful scents. If it is possible to send scented newsletters, I will be very happy and further selection can be facilitated. I am absolutely enchanted, satisfied and thank you very much. Have a nice day. (10/05/2016 - Marta K.)

Dear Mrs. Lenko, two days ago I wrote to you how Musk Abiyad perfume found me and how I found your fragrant pages. At the same time I wrote what a strange disillusionment the perfume caused me, but the next day I came to my own mistake Unknowingly, I covered Abiyad in the morning with a test sample from a girlfriend (Fakhr Al Jamaal-EdP), which did not fit me, which also created the evening strange smell of Abiyad. Yesterday, after thoroughly cleansing my body, I applied droplets of Musk Abiyad to the pulse points of my body, without touching my hands, only lightly spread a glass stick on the hem of my nightgown at the same time, and at that moment I plunged exactly into the fabulous fragrance I expected In the introduction I felt a juicy, freshly picked rose lying on sun-warmed sandalwood, sprinkled with spring rain, wrapped in a gentle musky haze, and held the composition beautifully together for hours oudík, which I originally thought I could not carry, but the opposite was true. I could not get enough of the magical, intoxicating and at the same time pure smell and still sniffed, (sorry the expression) until I fell asleep in the embrace of timelessness ..In the morning after awakening I still felt a pleasant smell around me, although the saturation of roses overnight alu has disappeared, at the end of the magnificent concert with me cuddled with the sun and musk scented sandalwood.No simply splendor, luxury..I think that slowly but surely I fall into your magical world of scents.Thank you for your tips that helped me in better orientation and although I would like to try all the scents of the Orient, I will look forward to April, when I will order another fragrant gem right after your payout. Thank you again for your writing and willingness .. I wish you a nice evening and pleasantly spent upcoming spring holidays. (24/03/2016 - Irena Č.)

Message from my colleague Irenka, she has no PC - Musk Abiyad CPO - Jesus, it is beautiful ... Lord God sent it to me from heaven, but it is a gem, I have no words ... :) I was happy to be happy, because each of us perfumes stand out differently ... thanks for perfumes, Vanila Musk also smells beautifully, beautifully sweet, vanilla, completely fairy-tale ... (also for me) :) Have a nice day (17.1.2016 - Jana C.)

I've almost used up Musk Abiyad perfume water, so this time I chose the oil version in combination with deodorant. Today I received a package with these products, plus a practical perfume in my purse and I was really excited. Mostly I use strong perfumes like Hermes, Angel, Transparent, Reemas Silver from you .......... but sometimes I need to caress something soft, whimsical, clean. Musk Abiyad is a gentle fairy tale, a gentle cloud, a soothing and very noble fragrance. White musk is just my passion. I highly recommend to all Musk Abiyad customers. In oil form is beautifully cuddly. Thank you. And I really drown in the white musk! :-) I wish to all women who like me fell into the world of beautiful bottles with mysterious contents, wonderful fragrant days and good health and happiness. Your satisfied client (February 18, 2015 - Helena B.)

... I still have Musk Abiyad CPO, who immediately fell in love with my daughter and asking mom I mix ??? She made me very happy, she described this CPO as the smell of purity, I also say it is the smell of purity, freshness and I feel that I have washed and scented skin all over my body, very pleasant feeling. (3/21/2014 - Jana Š.)

From the depths of the subconscious as a crystal spring of fluffy whitish purity, a familiar smell accompanies us throughout our lives. The first memory is Mum's affectionate hand brushing gently creams and powders on a bathed baby… Twenty years later a sweet bride dressed in white lace lingerie in the middle of a large bed covered with rose petals, waiting for the first love experience smelling of innocence and spotlessness… it embraces the longed hot female skin, and a slight trace of sandalwood underlines the excitement. A soothing, stroking, sensual, beautiful drop of intoxication. (11/17/2013 - Andrea Ž.)

I am captivated, enthusiastic, completely out of the unearthly fragrance of Musk Abiyad and the luxurious royal bottle. Jůůů :-)) splendor, heavenly fragrant treasure, I am so happy, I am just absolutely blown away. I had run out of the formula long ago, so I filled the ampoule with water and wiped it at least, and I felt it, and now I have it, just perfection myself. I can smell the dewy, delicate scent of the rose with the greenery of freshly showered rain ... and the wonderful scent of white musk - the divine scent of purity! - and it really got me! (August 21, 2013 - Romana V.)

Have you tried one of our perfumes?
Let us know
how you like it!
You might also like