Nabeel Maliha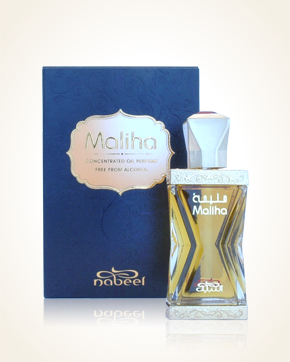 Nabeel Maliha
Concentrated Perfume Oil 20 ml
Out Of Stock
Concentrated Perfume Oil Sample 0.5 ml
Out Of Stock
Notify me when available?
Description
The flower concert begins in chords of roses, adding lavender, whose cold dissolves in creamy ylang - ylang. Hyacinths' softness is enhanced by a line of beautifully sounding iris with saffron, which gives space for the onset of a citrus wave headed by lemon and bergamot.
Also other notes are carried in a floral lure, this time it is jasmine with a unique tuberosis and in the vanilla bed is hidden sage with spicy nutmeg.
In warm-sounding woods is sandalwood with cedar, which are lightly complemented by velvety ambergris, smoky dry vetiver and earthy herbal patchouli. The final softness turns to a musky musky.
Special discount - expiration August 2019.

Customer Reviews (3)
Nabeel Maliha CPO Hello, today I have received the ordered fragrance samples and as always I am absolutely satisfied with the speed of delivery of the order and the overall service of your fragrant shop. Maliha is a very pleasant perfume, with a gentle and unobtrusive intensity. In the beginning with clear citrus tones that slowly fade into finely spicy and culminate in a sweet and soft finish of sweet ambergris and vanilla, all wrapped in the clear scent of my adored tuberosis. The perfume can be unisex, the husband also likes it, on it again more prominent spicy and woody chords. Thank you. (10/22/2019 - Lucie B.)

Yesterday, I bought my favorite flower - a snow-white hyacinth - and remembered the perfume pattern in the drawer. I applied an oil to my hand and compared with the scent of the flower, and it was clear that I had to have perfume. :) It smells like hyacinth in full bloom with tubers, moist soil and shavings of soap. Maliha is one of the spring or summer purity scents with a hint of spicy bitterness, which develops on the skin into a soft musk. (5/11/2017 - Anna F. Č.)

Maliha - the description includes, among other things, lavender with saffron. Ingredients that can smell in a certain amount and not in a certain amount. But curiosity prevailed and a pattern arrived. And with it a huge enthusiasm. The slow first inhale, when olfactory receptors take everything and send information to the brain, made the brain roar: I want it, I have to. Noble sweet spring flower beds with carnations, irises, magnolias, slightly pungent forsythia, all fluffy with lavender sprigs, which reaches the whole concept. The lavender here is metallic cold and salty. It was this tone that reminded me of my favorite Salina niche from Laboratirio Olfattivo. Nevertheless, Maliha is beautifully sweet, and in the end it is almost powdered. Well, another gem and the whole bottle goes to me. (12/13/2016 - Simona J.)

Have you tried one of our perfumes?
Let us know
how you like it!
Notify me when available?
You might also like