Al Rehab Luzane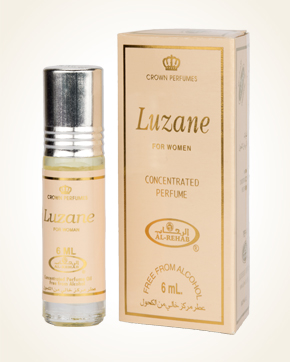 Al Rehab Luzane
Concentrated Perfume Oil 6 ml
In Stock
Concentrated Perfume Oil Sample 0.5 ml
In Stock
Description
A pocket pack of oriental perfume, the big advantage of which is the small size (6 ml of pure perfume) so that it fits even the smallest handbag or pocket. In addition, perfume is very easy to apply using a ball in the bottle cap. So you can always have your favorite fragrance with you.
Lily of the valley, very tenderly laid on the subtle tones of vanilla, introduces you to the secrets of the beautiful composition of this perfume. The aroma is pleasant, soft and long-lasting. It will keep close to your skin, yet you will feel it intensely. After fully unfolding, you will get a little mint and ginger. But with only a touch and a slight freshness, we continue to add lilies with a pinch of woody plants and, at the very end, there is a fully developed aroma of lily of the valley.

Customer Reviews (6)
Luzan, after painting is a large whirlwind of lilies of the valley, but then turns into a delicate floral scent. (10/10/2017 - Zdena B.)

Al Rehab - Luzane CPO 6 ml - I kept her aside and didn't have the courage to "take her to the streets" with her. She stood sadly in the corner, and after a long time I decided to give her a chance to charm me. I do not have a light floral or fresh fragrance (I hate European literally), but Luzane from the very first moment was literally nice. It's not a perfume I couldn't do without, but it created a pleasant optimistic mood. At work, a client leaned over to me, sucked in, and with my eyes closed and dreamy smile (Luzane :-)) gave me a compliment. What to add ... Your offer is dangerously large and colorful. (Jun 30, 2016 - Lenka S.)

Luzane - pleasant, floral fruity perfume. I enjoy watching the evolution of fragrance. From the beginning I perceive as if there are two lines that intertwine and think, which will be the first and the second. One line sounds gourmet-creamy-vanilla. The second line follows a fresh green trace of lilies, lilies of the valley and daffodils. Then the ripe fruit (about pear, apple) is slowly added and all the ingredients are gradually combined into one slightly sweet, pleasant composition. The scent is praised by men. I would say that he cannot like it (May 1, 2015 - Martina M.)

Luzane - fragrance beautiful, intense, gentle and great stamina. Floral beauty and my thanks for the wonderful fragrant gift. (April 15, 2015 - Miloslava P.)

In sunny spring weather tear the lilies of the valley with leaves, add a peony under the bells, decorate the slices of juicy sour green apple between the flowers, tie a bright ribbon and sprinkle with vanilla. The result is Luzane, a rich, full-bodied, fresh, sparkling floral optimistic elegant European-type fragrance with endless stamina, which holds discreetly to the body. A small oil that is a bold competition for perfumes of expensive brands. (27/09/2014 - Andrea Ž.)

Luzane - fragrant beauty of European style. Gentle, feminine, optimistic, intense and very elegant fragrance. I feel a mixture of woody plants and flowers, I don't know what a little lily? But it doesn't matter at all. Luzane must always be in reserve, I take it for interpreting and meetings, or just for fun, when I need to be rather in a distant form ... from the jeans, to the jacket pocket, to the road - in short and well first aid. A big plus to these ballpoint flasks - they can be washed, let a little vented and reused on other treasures in the form of cpo. To wear in the winter in the summer (in the winter warm up and in the summer they otherwise decompose - somewhat more intensely), in the morning, in the evening or the whole day, I do not distinguish between men and women. I have been using Arabic or oral fragrances for about 5 years and I am more and more interested. I am extremely grateful to Mrs. Lenka for a fantastic opportunity to use them. I greatly appreciate the service of Anabis indeed excellent service, for those amazing tastings, presentations, the package always awaits a surprise in the form of a fragrant gift. (1/20/2013 - Sylva F.)

Have you tried one of our perfumes?
Let us know
how you like it!
You might also like