Louis Cardin Rose Vanilla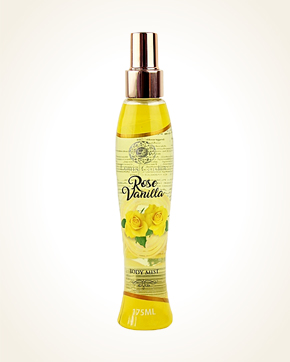 Louis Cardin Rose Vanilla
Body Mist 175 ml
In Stock
Body Mist Sample 1 ml
In Stock
Description
Body spots will envelop you with a veil of tenderness of a sweetish composition that is opened by a creamy vanilla. Vanilla is smoothly smooth and ties the velvet-smelt roses into its embrace.
In the flower chords, a powdery lovely key of a musky musk will sound, its freshness slightly complementing the gourmet trace of coconut shavings extending into the vanilla score.

Customer Reviews (4)
Hello, I received a package from you today. Thank you very much. The mists are amazing. Beautiful smell. I was afraid of the vanilla rose or the smell would not be difficult but I was very pleasantly surprised. I also plan to buy one more perfume from your offer. I wish you all good health and especially good health in this difficult situation. Yours sincerely (09/04/2020 - Zuzana B.)

Greetings to Mr. Lenka and Mr. Jana :-) and I can not otherwise ... if Naseem Qadr Lamsa is so breathtaking, so I have to try and oil with a ball and Lamsa in the spray .. ;-) And to be sure that she did not sell out , so I have to buy that body fog. And one more for my daughter. I'm looking forward to the whole foggy shower, and then the beauty will fall asleep ... and in the morning after waking up again vanilla-musk shower with a very delicate scent of rosebud ... and it all wrapped in a veil of tender powder .. náádheraaa .... and it will awaken the senses and brighten the day .... (9.4.2019 - Romana V.)

Another hit, and I'm surprised he has no review yet, is Louis Cardin Rose Vanilla !!! Beautiful powder - vanilla musk rose so divinely blended - powdered smell of purity, gentle, unobtrusive, perfectly perfectly with a masterful feel ... just for my nose is so fragile that I need to spray at least 5 times a day. And info for ladies who do not have the smell of rose, so do not be discouraged that it is in the description, and yet try at least the formula, because the smell is unearthly beautiful and roses in this fragrance literally boasts of its very tender beauty ... absolutely uncomfortable on the contrary, powder fragile ... :-) thank you and also Mr. Jana. Have a nice :-) (25.3.2019 - Romana V.)

Louis Cardin Rose Vanilla beautiful velvety powdery fragrance of gentle purity ... in that I would bathe ... is amazing ... (12/02/2019 - Romana V.)

Have you tried one of our perfumes?
Let us know
how you like it!
You might also like