Khalis Ateeq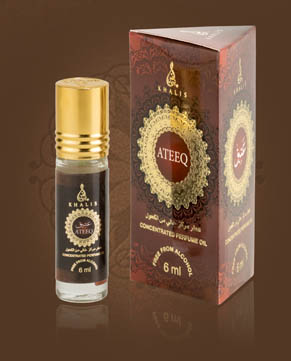 Khalis Ateeq
Concentrated Perfume Oil 6 ml
Out Of Stock
Notify me when available?
Description
A pocket pack of oriental perfume, the big advantage of which is the small size (6 ml of perfume), so it fits in the smallest purse or pocket. In addition, perfume is very easy to apply using a ball in the bottle cap. So you can always have your favorite fragrance with you.
Ateeq is a perfume with a full aroma of rose, spices drowned in honey and pleasant echoes of precious woods. Compared to the large package, you will find heavily represented oud oil, earthy patchouli with soft ambergris, so the smell sounds a little sharper and goes more in oriental tones.
The pocket pack is very similar to the Atteq fragrance in an oriental flacon.

Customer Reviews (3)
At first very strong, oud and spicy, but after a short time it blends with the scent of rose and softens a lot. This fragrance is one great beauty for me, it is unusual and interesting. Also very variable, so you feel fresh at the end of the day. As if you were just putting on freshly washed laundry. For me right now smell No.1. (4/23/2015 - Renata Š.)

Khalis Atteq: Roses for a day off. Another warm scent. Instead of the sun, there is an old golden ambergris about the glow and warmth. It gives rise to sweet and slightly fruity rose flowers, which makes the aroma pleasantly soft and relaxing. You can also notice unobtrusive oud and oriental spices. After a few hours, the rose surprisingly changes from sweet to fresh, as if in the meantime refreshed. Yet it will remain soothing. It is the kind of scent you need when you have a day off and you don't want to think about anything, just enjoy that time. (15.4.2015 - Katka - Breakfast in perfumery)

Khalis Ateeq - After the initial strong onset of oudu, the aroma softens beautifully and like the sun sets behind the horizon in the evening, warm ambergris, warm cinnamon and magic patchouli come to the fore. Scent soft, oriental, long-lasting and sinfully incense mystical. (April 5, 2015 - Zita Ř.)

Have you tried one of our perfumes?
Let us know
how you like it!
Notify me when available?
You might also like