Khalis Ahlam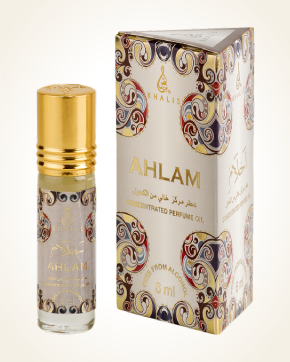 Khalis Ahlam
Concentrated Perfume Oil 6 ml
Out Of Stock
Concentrated Perfume Oil Sample
Out Of Stock
Notify me when available?
Description
Sweetly seductive spice headed by cardamom and bittersweet saffron with several undertones hidden in the skin, opens the scent saturated with the Orient.
The spice spreads floral-smooth echoes, dominated by the queen of flowers - a rose, aerated by the glare of a sensually sparkling musk.
Touches of mystery and depths reveal an oud oil connected to the balsamic key of incense, into whose woody contrasts a herbal earthy patchouli will end, ending an Oriental concert.
A pocket pack of oriental perfume, the big advantage of which is the small size (6 ml of perfume) so that it fits even the smallest handbag or pocket. In addition, perfume is very easy to apply using a ball in the bottle cap. So you can always have your favorite fragrance with you.
Ahlam has not been in Khalis for a very long time, so I present it as a new innovation.

Customer Reviews (2)
Ahlam goes beyond the current mainstream; it reminds me of the florentine fragrance of a time when the market and the majority of the taste had not yet been dominated by the "chews" and the "fruit trees". Yet Ahlam is not a retro fragrance nor does it look old. Perhaps the most suitable designation for him in the modern concept. The first impression is provided by a rich floral heart, I only recognized the classic combination of jasmine-rose-ylang-ylang, but the whole bouquet will be much more sophisticated. Fortunately, it does not look sharp or suffocating, as some floral scents can do…. Dried fruit, namely apricots and dates, secures flowers. All this is wrapped in a honey-amber veil dusted with saffron and sprinkled with a bit of sandalwood. Everything is crowned by incense with skin, which gives the fragrance a special depth. Ahlam is indeed a treasure, as someone has written before me… it may not be "honeymoon", but for me it is one of the honestly made fragrances that (except for hot weather) can be taken anytime, anywhere. (09/03/2020 - Petra P.)

perfume sky ... KHALIS AHLAM - so perfume is a total gem, orientally tuned, gentle but amazing. (06/11/2014 - Veronika H.)

Have you tried one of our perfumes?
Let us know
how you like it!
Notify me when available?
You might also like