Khadlaj Zainab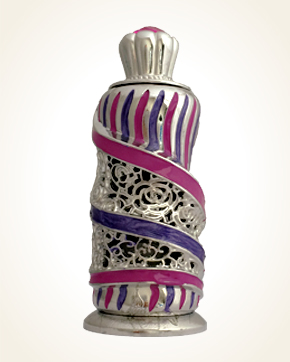 Khadlaj Zainab
Concentrated Perfume Oil 18 ml
In Stock
Concentrated Perfume Oil Sample 0.5 ml
In Stock
Description
The sweetly carried gourmet fragrance is full of coconut shavings immersed in white chocolate.
In sweet echoes we continue to apricot peach - intoxicating melange, which is also missing a few shades of bitter pits.
The enchantment of the seductive and sensual line of all nuances offered by the delicious vanilla will emphasize its connection with creamy ylang - ylang, delicate lily of the valley and a warm chant of sandalwood.

Customer Reviews (3)
Hello, thank you very much for the previous shipment. I ordered my favorite pieces and "unfortunately" the Zainab perfume sample. "Unfortunately" because its splendor is irresistible to me and Christmas begins for me before Advent. Thank you for the splendor you bring for us. Have a nice day (30.11.2018 - Jitka P.)

Zainab: bought a large perfume blind only by the ingredients and .... It is again magic with fragrant ingredients. For this perfume I identify with the description. Really beautiful perfume, where from the beginning I can feel the coconut in white chocolate with the feeling that I need to bite. I can clearly feel the subsequent apricot peach aroma, vanilla and some white flower. Ylang ylang follows and it smells so beautiful that I want to bite off. I have perfume on the pulse points for several hours (a small amount) and still have the need to inhale deeply, because it is simply God !!!! Edible, tasteful, sweet, but not sweet, fragrant, luxurious and enjoyable. For company and casual wear. One of the most successful perfume oils I've ever had the honor of trying. Certainly he will often be elected with me. Thank you again for beautiful fragrant magic. (3/29/2018 - Iveta W.)

Khadlaj-Zainab ... Coconut seeds, whipped peach, creamy ylang, I don't feel lily of the valley, rather sandalwood, but the smell is bombastic, at least to my skin ... jupiiiii thank you for the samples, they made you happy ... večer (21.3 .2018 (Jenny C.)

Have you tried one of our perfumes?
Let us know
how you like it!
You might also like