Al Alwani Jamra Attar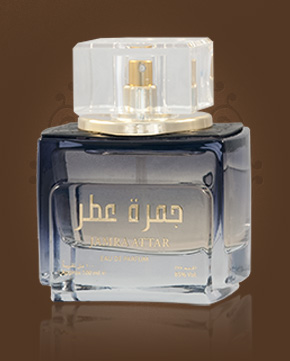 Al Alwani Jamra Attar
Eau de Parfum 100 ml
Out Of Stock
Eau de Parfum Sample 1 ml
Out Of Stock
Notify me when available?
Description
Woody, spicy - sweet aroma invites you to a very pleasant walk lined with bergamot, vetiver and vanilla.
Wrap up the secrets of sandalwood with a light touch of cedar. The seductive connection of woody plants and caramel is very sensual and will win you over. The spicy footprint is full of rich cloves, cinnamon and nutmeg. The velvety warm earthy fragrance of Oponax, accompanied by the purity of musk fragrance, leads to an alluringly sinful elegance designed for both men and women.

Customer Reviews (4)
Jamra Attar - although I do not have a lot of sweet scents, so vanilla flees from it and the smoke remains, I am also unbound from it. About three scents out of ten samples I rejected that this not so :-), but when I try again for a second time it is completely different ... hell to know it :-) But I hope that time permits and evaluate them all. (Jan 31, 2015 - Lubos I.)

Jamra Attar ... this is a passionate night adventure ... thank you, beautiful packaging and uncompromising smell that I have long wanted. I know I'll come back here again. (7/31/2014 - Vlaďka P.)

It has a tremendously interesting caramel tint that I had to think for a long time from where I knew it. And then suddenly the memory jumped up - that's roibos. High-quality red roibos itself has a honey and milk caramel-sweet aroma, whether dry in a box or brewed in a cup. But don't imagine something like the Eau Parfumee and the Rouge Bulgari. Jamra Attar is not monothematic, it is a perfume of the type of "Arabic marketplace" with a mixture of various pleasing scents - and for plasticity and odors. Well-known are ripe citrus and melons, seared wood, coldly biting due to distinctive cloves, star anise and nutmeg. There is an aroma of creamy and simply greasy resins, the smell of roses and in the end a breath of slightly sweaty skin. Together perfume full of life, cheerful rush and satisfaction. (4/10/2014 - Dzona)

It is not in the description, but I would swear to the gentle presence of oud. And I like it. The beginning is rich woody, yew and cypress, a little fresh moss. It is dominated by nutmeg, dry sandalwood is added to take the whole composition austere seriousness and play the game between hot passionate cinnamon with sandalwood and cool chypre tones. (08/03/2014 - Simona J.)

Have you tried one of our perfumes?
Let us know
how you like it!
Notify me when available?
You might also like