Surrati Ewaan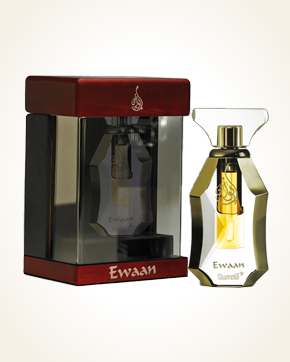 Surrati Ewaan
Concentrated Perfume Oil 12 ml
In Stock
Concentrated Perfume Oil Sample 0.5 ml
In Stock
Description
The desire and passion are hidden in a crystal bottle from the exclusive Surrati collection.
Let's embark on a captivating journey with Ewaan, a sweetly intoxicating perfume, a sensuality that binds you to the first drop of fragrance - and won't let go.
Gourmet vanilla is in a narcotic composition with a juicy peach and a creamy-sounding apricot, with which it delights delicate rose-hip flowers.
The gentle connection of the iris with the white musk gives a gentle trickle of intoxicating scent to which fresh bergamot peeks from a distance.
Let yourself be lured by the softness and the heat at the same time, let yourself be absorbed by the touches of a gourmet-sounding vanilla from Madagascar, which spells from delicate, dusty to intoxicating.
A dangerous game of charm and seduction - that's Ewaan.

Customer Reviews (4)
Hello, the samples are beautiful, I have not known such scents. They surprise me with their full strength, and oils by changing and being such a "complex" that smell is confusing and at the same time very attractive, it is like chocolate - it attracts and attracts and it is hard to resist it. This is something similar ... :-D I was most interested in Ewaan, vanilla is the essence of sensuality elevated to a multiple experience due to a few drops of fruit nectar. This won and it is clear what will be in my next order in the full package. Ewaan not only enchanted me with the power of fragrance, but especially with its refinement, vanilla can be "sticky" or sweetened, Ewaan has luxury, is what I imagine smells, seduces and is full of sensual seduction. I was interested in other fragrance samples, I have to wait for their testing and more detailed evaluation, because Ewaan "swallowed me", thank you for the other samples as gifts, it pleased me :-) (24/07/2018 - Kateřina H.)

Ewaan - another wonderful scent of vanilla! This is Leyla refreshed with citrus. Leyla is still 1st place with Royal Musk :-) (May 4, 2017 - Žaneta B.)

The small Ewaan formula has "bitten me" so much that I can get a big version from Santa! (11/30/2016 - Jitka Š.)

Good evening, oh oh oh Ewaan - I can't breathe, I can't be without it ... how can I just grab it and have it for myself? Vanilla is hidden in the magic crystal and my sense and strength is decreasing ..... :-) Mrs. Lenko, what are you carrying ???? Help, help, pattern caught in his snares I caught .... I will have to marry my purse :-( but again I will have a beautiful smell .... see what you do with us? R.)

Have you tried one of our perfumes?
Let us know
how you like it!
You might also like