Anabis Elmas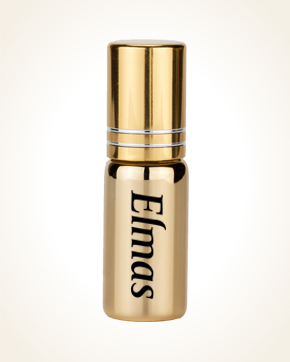 Anabis Elmas
Concentrated Perfume Oil 5 ml
Out Of Stock
Concentrated Perfume Oil Sample 0.5 ml
In Stock
Description
Elmas is purity, Elmas is tenderness, Elmas is enchantment.
Enter the faintly gentle caress of musk. Let yourself be refreshed by a few tones of freshly mown grasses that float lightly to a hint of juicy citrus.
Here comes a chord of fresh-sounding flowers, and just behind the curtain a distant cloud of ice mint. And again, there is a fluffy, cold musk sparkle that unfolds well on women, and even men get musk strokes, a slight oriental scent.

Customer Reviews (8)
Hello, I would like to thank you for your willingness and quick action. I bought the first blind samples and immediately after opening, Elmas smell amazed me. Wonderful, now I buy a bigger package. And I have two daughters who run away for fragrances, so they certainly choose their frog. Thank you for the experience and have a nice day. (11/06/2019 - Lenka S.)

Elmas-beautiful unobtrusive smell, I rubbed myself in the morning and felt it all day :-) I recommend it for me. (26/05/2019 - Marie Š.)

Anabis Elmas-Beautiful Pure Fragrance (23.5.2019 - Marie Š.)

Elmas - is a beautiful pure soapy smell .. but now after a long time, as I smell it, reminds me of Musk Abiyad .. as if from afar the roses reported, only more warmed by the sun .... (16.12.2018 - Romana V. )

Oh God, I'm ecstatic ... I got my fragrant love musk beauty moooc thank you Mr. Jano and Mr. Lenko :-) such speed .. well as always ... really moooc thank you .... Elmas is amazing wonderful cleanliness soap-like smell ... just purity alone ... bomb .... And it is made for both women and men ... It is such a clean soap cloud that goes with any scent ... (12.7.2017 - Romana IN.)

Elmas: Noble Soap The name of the fragrance is meant to mean "diamond" and does not lie, it is a jewel in a vintage finish. It smells of soft toilet soap, lots of musk and perhaps a starched white collar. Elmas is basically a pleasant nostalgic memory. Perfume full of tiny flowers, tenderly girly, is like a luxury soap, which is given to scent the laundry. (24.5.2017 - Katka - Breakfast in Perfumery)

ELMAS - purity and freshness on my skin gradually sink into depths, which change perfume into a very sensual, so shy impression ... as a gentle girl who is just discovering her femininity ... (8.2.2017 - Lenka S.)

For me, Elmas is a fragrance of sensation, a fragrance of purity, innocence, charm, a fragrance in which images of a woman in various forms are filed in front of my eyes. First, the caring mother lovingly smears an oil and dusts the baby so that she can press her face to the baby and feel the sweet smell. Then a whiff of citrus carried on the soap shavings brings another picture. First Republic lady boudoir, in front of the mirror sits a movie star and an open powder powder, fluffy powder puff, lipstick nearby, gentle smell of make-up and intimate seductiveness. This amazing phase gradually begins to merge with white flowers and crystallizes into a lady with a refined taste and fashionable elegance Coco Chanel. The basis of Elmas is musk and its play with other ingredients, but it is certainly not a typical laundry scent. Elmas is a celebration of tender charm. (And also the first musk that I took at my mercy ;-)) (2.2.2017 - Andrea Ž.)

Have you tried one of our perfumes?
Let us know
how you like it!
You might also like