Nabeel Cinderella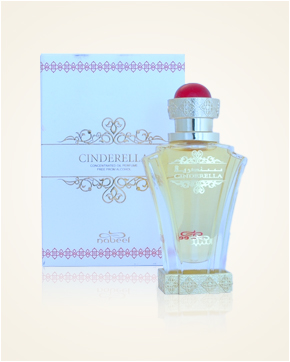 Nabeel Cinderella
Concentrated Perfume Oil 20 ml
Out Of Stock
Concentrated Perfume Oil Sample 0.5 ml
In Stock
Description
Significantly bitter, grapefruit and bergamot notes are drifting into oriental echoes of saffron with cardamom and ginger, added oud essential oil. In other woody waves, cedar appears with a warm, sweet tonal.
The mystical fragrance of rare soap-bearing earthy patchouli resembles a floral bed of roses and jasmine.
As a magic in the fairy tale of Cinderella, here we transmit to the stories of mysterious scents with reflections of a gentle cloud of musk and velvet veiled, honey ambergris.

Customer Reviews (3)
The name Cinderella - Cinderella really represents this perfume. After the first application, my sensitive nose hardly noticed her, so it is soft at the beginning and one could say, like Cinderella - bland. I had to add one more drop than I used to and then unfolded. I would compare her to a young flower bud that is shyly waiting in the drops of morning dew for the first kiss of the sun's rays. At that moment, silky pink tones, fully wrapped in the fresh citrus piquancy of bergamot and grapefruit, pull Cinderella out, into the sun, into the world, to the joyful anticipation of their desired prince, who sees him coming on the horizon. She appears in the form of oud oil, strong and intense, and that morning Cinderella turns into a beautiful and seductive princess in a beautiful and sensual dress of ambergris and musk. Pleasant, gentle, light and floral fragrance with medium intensity and durability and a mysterious promise of the magical Orient. (10/23/2019 - Lucka B.)

CINDERELLA-is the mooc beautiful perfume, where you can feel grapefruit, bergamot, and ambergris ... a real gem ... (2.3.2017 - Veronika H.)

Cinderella - which is not Cinderella, beautiful, rich, it is caress, even if it is mysterious, like the whole Orient, fabulous perfume !!! I'll buy another one for Christmas for a friend. Thank you, thank you, thank you !!! Yours sincerely (27.9.2016 - Jana P.)

Have you tried one of our perfumes?
Let us know
how you like it!
You might also like