Anabis Anabel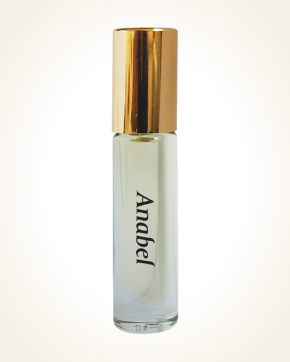 Anabis Anabel
Concentrated Perfume Oil 5 ml
In Stock
Concentrated Perfume Oil Sample 0.5 ml
In Stock
Description
Musky seductive waves lure embrace of woody sweet iris tones with a fleeting touch of the fragility of apricot blossoms.
Musk chords are refined and intertwined with their silky lines with white jasmine, the velvety beauty of roses and the sweetly intoxicating aria of majestic lilies.
The innocuous sensuality of the frosted lilies of the valley dissolves its coldness into the soft warmth of the woods, which show the milky smoothness of sandalwood and the contemplative freshness of cedar. The woods are easily wound by the unique, amber powder-like smoothness, which again blends in perfect harmony with the fluffy, glittering musk.

Customer Reviews (5)
Anabel is a beautiful palette of delicate scent that will last great. I really like the combination of irises in perfumes and here is a lily of the valley with him, another of my favorite flowers, and of course jasmine and roses. The whole of Anabel gives the impression of silk soap or body cream, just to be seduced. It is a pleasant addition to my work in the office and I thank you for it the beautiful gifts that you always attach and your fragrant greetings written by hand of the person who packs the package - this is the cherry that will also warm you. Good luck and thank you once again for the whole fragrant package. (26.08.2020 - Helena P.)

The first thing I thought about when I put on Anabel was a powder box with a flower of violets. The partner expressed his first impression in just two words: lilac soap. And now you choose ... Well, you don't really have to: Anabel has a little of everyone. After the fake-powder introduction, more flowers appeared: I could feel lily of the valley, rose and lily. Lilies of the valley lack their typical "metallic" tinge, which I have added to Anabel another plus. The scent picks up soap-powder quite quickly and then holds this line until it is almost not felt. The wood flashes back and forth, but is it still soap powder ... or soap powder? I am practically unaware of Ambra and I do not mind. Anabel is beautiful anyway ... (Sep 24, 2019 - Petra P.)

Hello, today came package with Anabel and samples. Anabel is a lovely joy and the velvet bag - beauty. The smell caresses me, its line would say that it goes in powder tones and somewhere flowers and something deeper flicker. She surprised me and pleasantly, so thank you very much for two samples as gifts - today I will test at home gradually those 8 samples and I know that I will definitely order something else. I was also surprised by your customer service, it is nice and attentive. Yours sincerely (23/09/2019 - Lucie B.)

Anabel - gentle gentle scent. I find myself more suitable for a woman. (16/09/2019 - Katarína E.)

Anabis Anabel. This fragrance is beautiful, juicy, unobtrusive and can have both a woman and a man. (22/08/2019 - Marie Š.)

Have you tried one of our perfumes?
Let us know
how you like it!
You might also like