Al Haramain Amber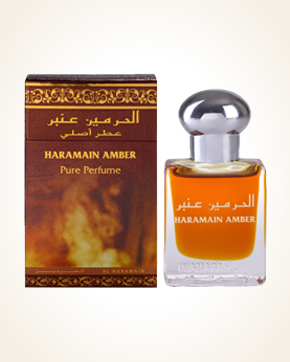 Al Haramain Amber
Concentrated Perfume Oil 15 ml
In Stock
Concentrated Perfume Oil Sample 0.5 ml
Out Of Stock
Description
Pocket package of oriental perfume (15 ml CPO) in a bottle with a ball for easy application.
As the name suggests, it will be a fragrance of the untamed, strong, intense and with the typical chords of the Orient.
The combination of ambergris and oudu suggests a fragrance, which is initially very shaking, but after smoothing comes the individual nuances of mystery that the two essential oils linked together. The gentleness in the warm touch of ambergris honey waves and the woody oriental to mystical touch of oud oil is coming to you after a few moments that are needed for this smoothing. So give the smell time to develop its waves.

Customer Reviews (1)
Hello, thank you for the order processing quickly. I was fascinated by the scent of the Al haramain amber formula. It's the smell of the sun, trees, grass, open space ..... just beauty. When it's in stock, I order immediately. Have a nice day (07.06.2020 - Eva D.)

Have you tried one of our perfumes?
Let us know
how you like it!
You might also like