Amazing Creation Shay Oud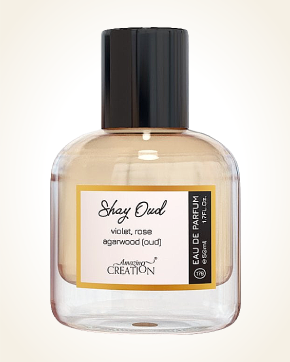 Amazing Creation Shay Oud
Eau de Parfum 50 ml
In Stock
Eau de Parfum Sample 1 ml
In Stock
Description
The intensity of smooth incense and mystical oud - this is Shay Oud inspired by a European bestseller.
Mysterious incense with smoky nuances in the background, sensually floats on deliciously sweet honeycombs, to which oud essential oil is added.
Oud vibrates its individual phases, intertwining between the dry cracking, through the softness of the woody plants to the deep oriental tones, from which, together with the floral veil, it gradually cools and becomes a sweet smoky chord, which is warmed with incense.
The rose is briefly touched by a violet, whose powdery tone of flowers complements the touch of greenery of its petals and stems, to show again the oud essential oil, which is aromaically spicy woody in the full development of the perfume.

Customer Reviews (1)
Shay Oud has the same DNA as Prince of Desert Brown, which I already wrote about: the base notes are dominated by rare woods and patchouli, I can smell incense only in a light whiff... The earthiness of the base is softened by majestic rose, discreet iris, dignified ylang-ylang and modest violet... all four are bathed in a honey-vanilla liqueur in which pieces of ripe, juicy peach float. They're having a blast... and so am I. (25/10/2022 - Petra P.)

Have you tried one of our perfumes?
Let us know
how you like it!
You might also like