Khadlaj Amaal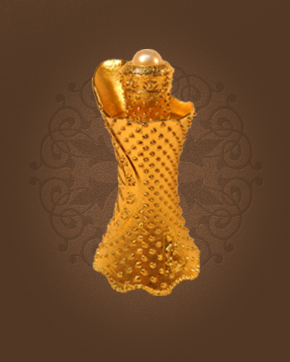 Khadlaj Amaal
Concentrated Perfume Oil 18 ml
Out Of Stock
Concentrated Perfume Oil Sample 0.5 ml
Out Of Stock
Notify me when available?
Description
Amaal is a lavish feast headed by sandalwood and chocolate. The floral chord is represented by a rose, which complements the whole warm aroma. Vanilla supported by sweet oud oil here directly spells.
The smell of lemon appears timidly to be replaced immediately by the smell of peach. In this combination, of course, we can find the smell of purity of musk, to which gently enters the smell of roasted almonds with honey veil.

Customer Reviews (20)
... I do not know what I would write, just a wonderful smell. Great mutual satisfaction. (May 22, 2015 - Miloslav Z.)

Amaal is the smell of thick warm chocolate, vanilla, desert and lure distances. Arabic perfumes are - love for the first meeting. (May 19, 2015 - Jana U.)

... when I gave my mum a gift, she first said that I shouldn't spend it. :-D When she took out the golden flacon and smelled the smell, she had no words. It was a hit on the black, which makes me extremely happy. And the last time we saw each other, she smelled wonderful ... I think it's a perfume that clings like a second skin. Thank you again for your great service (May 12, 2015 - Lenka K.)

Amaal - I can't wait to give it to my mother. :-) Once I smelled the pattern of this fragrance, she recalled me. Beautiful warm scent, as warm and soothing as mum's arms. (05/05/2015 - Lenka K.)

AMAAL - a magical, fabulously beautiful bottle with even more beautiful content has arrived today, it is, as I wrote before, when I had only a pattern, a luxury scent that cannot be described in words, simply ran out of words and remained a fairy tale. I am looking forward to more treasures in my collection. My great thanks (27.4.2015 - Miloslava P.)

AMAAL - vanilla - chocolate luxury with drops of lemon, wonderful aroma, where perhaps even a word can not express how beautiful it is. It reminds me of Soft, but each is original with its own fragrance, I sit and can't break away from the beauties I have at home, while Amaal only has a pattern, but I must have it in bulk with an extraordinarily beautiful bottle. Mrs. Lenka great thanks for such splendor, where words run out and remain only wonderful scents. I have fallen completely into these scents, I have not experienced anything like this, I find myself in a fairy tale of a thousand and one nights from which I can not wake up. Thank you for a long, long time and I will have the honor to shop with you. (4/16/2015 - Miloslava P.)

Amaal - for me the first perfume blind, only according to the composition and reviews. I was expecting sweetness - the one I love for perfumes, but Amaal was taken aback. After the application I found myself somewhere else than I expected. Immediately with my first smell, I imagined standing at the kitchen counter in the pre-Christmas period, kneading gingerbread dough - a lilac of dark forest honey and grating absolutely fresh peel of yellow lemon, that's definitely what you smell of perfume for the first time - honey and lemon peel , after a little recovery you will recognize the powdery musk, the ripe taste of peach and the smell of roses flavored with chocolate, and a little oud appears in the background. Truly citrus sweet splendor. In addition, the Arabians can be amazingly mixed - in conjunction with Amaal, they perfectly match Lulu Al Khaleej, which adds more powdery and gentle musk, caramel flavor and more sweet fruitiness, and Amaal will remain largely saturated and evil with lemon zest and create an unforgettable combination. I definitely advise trying to mix oils and perfumed water, it's wonderful. Another guaranteed combination is Glamorama red and Reemas Silver - my knees are bending :-) (2.3.2015 - Iveta W.)

Amaal, a unique scent, I've never felt anything like it before ... perfumes just from you ... úúúúžasnééé, dokonalééé, I have no words ...! thank you for the wonderful perfume (oil), my friend recommended you, in her honor I will prepare a great celebration ... :))) (1.2.2015 - Jana C.)

For Christmas, I got my husband Amaal. Incredible fragrance that can accompany me all day. (05/01/2015 - Jaroslava B.)

I enjoy my Amaal every day .. and probably for the next ten years I will still be, because just a slight rubbing of the skin and smell wonderful all day! (11/10/2014 - Hanka Ch.)

... fragrant package arrived !! Thank you very much for the super fast service ..! I'm excited about the scents! Amaal is already on the shelf ... and it suits him there .. so my little big treasure :-) In the smell I directly buy :-D (30.9.2014 - Hanka Ch.)

Amaal nezklamal !!! It is an unusual and unusual smell. Exactly the way I like it. I must confess that with your perfumes I enjoy the feeling of uniqueness and originality every day. You won't meet them on the street anymore .... and if it happens, it's a nice surprise and it will even please such a meeting! :-) (Jul 29, 2014 - Lenka M.)

Taj Al Arab or Dareen in oil. Luxury vanilla with chocolate and almonds, drop of freshly squeezed citrus juice ... (4.4.2014 - Renée H.)

I just love your perfume ... this week Amaal came to me, I had to wait for it for a while, but it was worth it. I may be spoiled, but I deserve a little bit of luxury for an affordable money: -) ... there is everything in it, there is a very intoxicating sensuality ... the first smell is too sweet, the second is a flower garden and the third dazes me and gets my beloved sandalwood, but only for a moment to reappear vanilla and with other breaths longed for a rougher sandalwood ... I probably fell in love :-) :-) :-) (1.3.2014 - Jana M.)

I would like to thank you once again for what you are doing. Your Arabic perfumes are wonderful and thanks to them I finally understand what it means to have a fragrance all day. Since I succumbed to the "Arabs", the other perfumes seem to me to be weak decoctions. I personally succumbed to Amaal, it's a magical scent, so full, sweet and mysterious. They are truly opulent feasts, as you write on your site. I was a little worried about how the partner and the surroundings would react, but so far I only feel enthusiastic. Just a drop and Amaal is with me all day. (11/12/2013 - Renata Š.)

Hello Amaal came to me today and I have to write to you that I am excited. I use heavier scents, but Amaal is beautiful. (11/12/2013 - Soňa H.)

I longed for Amaal, I only had a formula that baited me, and I knew I wanted this scent; finally his brother Maraam is just as beautiful, I would like to expand the Khadlay family with more pieces if you have. Amaal is a delightful fragrance, decadent and magical like real hot chocolate with almonds, a pinch of vanilla and whipped musk milk froth. The first smell immediately releases all the senses, the heat spills over the body, intoxicates, the smell deepens, the chocolate does not feel cold, on the contrary, red roses keep it hot and almonds dark bitter. Oud opens and closes the whole unearthly beautiful experience as a magic box full of fairy tales of the Orient. (11/16/2013 - Simona J.)

Lemon sparks of freshness gush from a chocolate fountain filled with floating flowers of roses wrapped in a fragile caramel crust. The confectioner adds a soft vanilla and freshly roasted crispy almonds with a large sandalwood sack. A little more velvety peaches to lighten, mix everything well, whisk and let it lie in a fluffy treat powdered with shining musk. I stand nearby as a small, eager girl attracted to the source of the Luke feast, and in front of my eyes alternate vivid images of a stylish Art Nouveau pastry shop, chocolate museum, fairground stalls with sweets, Arab hazelnuts ... At least once a taste. I can't resist and pick my delicious creamy meringue with my finger and scream all my senses at once: yet, yet. The smell warms me, permeates, abducts me, I can't break it. She is intoxicating, she is rich, she is a spatial, gourmet delight that immediately attracts attention with her delicacy. Cloaked in the lightweight plaid of the fragrant miracle of masterfully processed vanilla, I enjoy his presence all day long. (06/11/2013 - Andrea Ž.)

Amaal Soft - The scents are very similar at first impression, especially after spawning, but if we put them side by side, they are very different ... Amaal is a colorful vanilla, where you can distinguish beautifully the main ingredients, with a distinctive floral component. Soft is a straightforward vanilla fragrance with the addition of refreshing and compositing ingredients. (06/11/2013 - Andrea Ž.)

Amaal - another vanilla punch because it's not easy to mix vanilla perfume - it can't be sweet. Amaal is not sweet. The scent again has a unique warm composition again with excellent durability. Also Amaal reminds me of Dareen. Dareen and Soft, or Dareen, Soft, and Amaal, seem the same, but it's not, there is only the similarity. And each one is an original. (09/08/2013 - Sylva F.)

Have you tried one of our perfumes?
Let us know
how you like it!
Notify me when available?
You might also like